Big names in the jewelry industry definitely carry their weight in gold, so to speak. However, there's also the thrill of seeing a one-of-a-kind jewelry piece handcrafted by independent talents around. Smaller, independent names in fine jewelry seem to usher in more than just sparkling diamonds and sizable cuts.
Independent jewelry makers offer truly remarkable and elegantly designed pieces. But more importantly, their products come at the fraction of the cost of the products of designer jewelers. You're bound to get what you want when it comes to design without breaking the bank.
Top Independent Jewelry Brands in the US
Between ethical jewelry and unique styles, it might be time to take a peek at the top independent jewelry bands in the US. You never know if the next star of your jewelry box may come from any of these rising and roaring indie jewelry makers.
Catbird
If you're wondering "What jewelry are millennials wearing?" perhaps Catbird can provide one of its distinctive pieces. Millennials may be known for experimenting and experiencing things—and what better way to showcase that than with the Forever Bracelet. Catbird offers its zapping—or welding—service for the Forever Bracelet, if ever you're in Brooklyn.
This experience promises zapping a thin and dainty 14k gold bracelet onto your wrist forever. You can choose a specific design from an array of options. The store measures the bracelet to a snug fit on your wrist, and welds it in place. This becomes a permanent accessory on your person, thanks to its lack of clasp and its zap-lock so to speak. Of course, you can cut it with scissors anytime, but consider that it's permanently taking off of the jewelry as well.
Bagatiba
Timeless, ethically-made, and sustainable: these would probably be top priority for modern jewelry enthusiasts on the hunt for their next fine jewelry. What makes jewelry precious may not just be about the sparkle, but how meaningful that sparkle is in the grand context of jewelry ownership.
If you want to get one of the top 20 jewelry brands that A-list celebrities like Angelina Jolie, the Hadids, and the Kardashians patronize, you may want to check out Bagatiba.
Lausanne Jewelry
What do you do when you can't find that one great unique piece that really makes your heart flutter when you wear it? Some may give up and go for the next best option. For Lausanne Miller, it meant exploring her path towards becoming a jewelry designer.
With 15 years in the fashion design industry under her belt and her forever dream involving jewelry making, she took the leap and created her shop. Each Lausanne piece is crafted with longevity and love at the heart of it, making it a perfect investment piece.
And if you think this means that most fine jewelry here may create quite a dent in your budget, shopping around would prove otherwise. Miller herself emphasizes that it's all about affordable yet quality luxury jewelry. As a business that started to fuel her own interests and needs for the "perfect piece," she best understands the need to find affordable but quality jewelry that you can keep with you for a long time.
Mejuri
Mejuri held quite a spot being one of the popular jewelry brands 2021—and for a good reason! With the simple mission of making fine jewelry for everyday wear, owner Noura Sakkijha took "treat yourself" to a new level. Thus, Mejuri exists for the woman, to empower herself and to be in the presence of a supportive community. Indeed, Mejuri is among the best jewelry brands out there.
Because Mejuri has become the battle cry of women looking to express their wants and needs through jewelry, what sets the brand apart even more is its community. It builds on the stories of those who have found their voice and style in a favorite Mejuri piece and expand the community through sustainability.
L'Enchanteur
From the name alone, there seems to be a touch of magic in every jewelry piece from this shop. Twins Dynasty and Soull Ogun, founders and co-designers at L'Enchanteur, weave myth, magic, and memory into their jewelry collection.
The chunky gold pieces may appear rough and loud at first glance, but this shows proof that the spell has been cast. Their designs go beyond the usual offerings, making each piece a standout statement for your jewelry box.
L'Enchanteur knows how to be one of the top independent jewelry brands in the US. The Ogun sisters tap their imagination to come up with pieces like the Midas Touch Finger Caps. These bring a unique twist to what we consider as "finger accessories." How captivating are they? Captivating enough to find their way onto Queen Bae Beyonce's fingertips herself.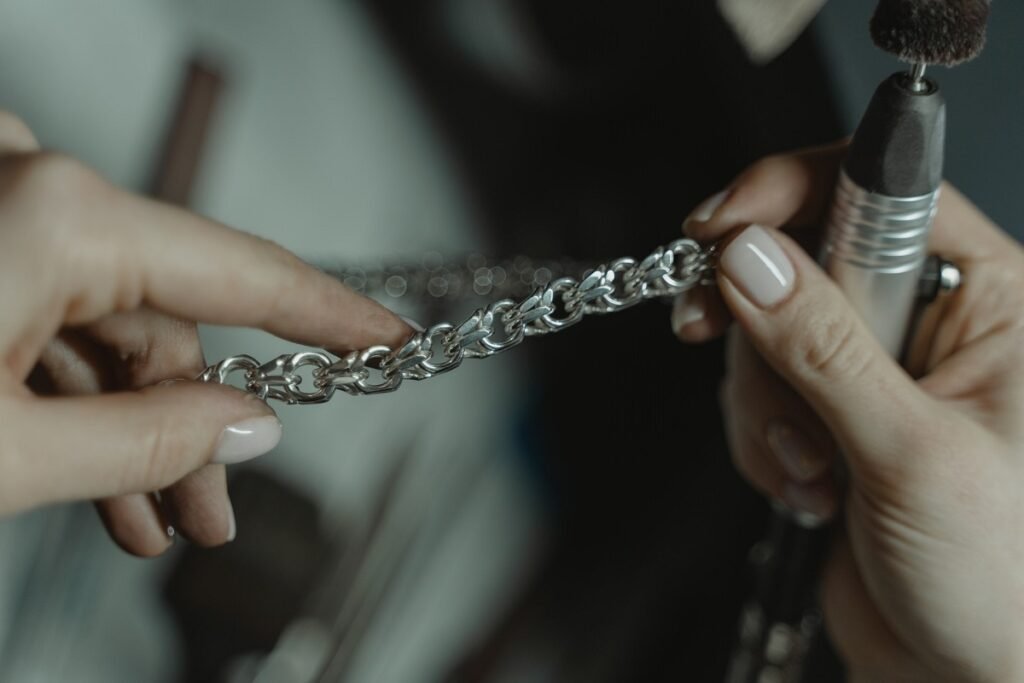 Cecilia's Steel
Steel seems to give such a harsh and cold vibe as far as fine jewelry goes. But what happens when it becomes the main ingredient for a designer's passionate affair with the arts?
Founder Cecilia Taibo Rahban found out the answer when she combined her vision of wearable art for jewelry design and the use of durable materials to craft them. This vision took her creations to places. And these were not limited to just shops for her pieces to sell. Because wearable art is art in itself, Rahban's works even found a space in local and international art exhibitions.
While Cecila's Steel is based in Los Angeles, it also has a big presence in Milan and Cancun.
Dana Rebecca Designs
Jewelry is more than just an accessory. For many women, it can be a source of empowerment. It's almost like a talisman that's meant to represent a milestone in their journey. Dana Rebecca Designs takes this philosophy to the next level.
Whether it's your first fine jewelry piece or another one to add to your growing collection, the brand aims to deliver everyday luxury to every woman. Their inspiration comes from their own beginnings as a female-owned small business brand. It's all about high quality pieces at attainable prices, so that every woman will have a chance to wear her own empowering piece.
The Chicago-based brand has become a force in women's radar that the likes of Scarlett Johansson, Alexandra Daddario, Tessa Thompson, and Sandra Oh have been seen wearing it. This goes to show that style and substance do not have to come with an unjust price tag.
Nyxturna Jewelry
Ever wondered if it is possible to infuse your fine jewelry with more than just sentiment and meaning? Nyxturna may just be the jewelry brand you need. It touts its fine jewelry offerings as being "inspired by witchcraft and the occult." The brand creates pieces like spike rings and chokers, moon phase rings, and a nifty divine planchette ring.
Nyxturna creates pieces that not only awaken the sleeping witch or sorcerer in you, but also inspires the good and accountable in its customers. Because beyond this unique offering, Nyxturna also focuses its efforts on being eco-conscious. They ensure that every jewelry piece shipped out comes in recyclable packaging. Additionally, part of the sale goes into climate projects, for the sustainability of the future.
Anne Sheffield
For some jewelry buyers, the question is not always "What jewelry brand is a good investment?" Because there are so many more independent brands and new brands popping up, the question now focuses on the jewelry itself.
Regardless of the brand, what jewelry piece is worth making into an investment. More than just the monetary concerns, one should look at the meaning behind the jewelry piece that one wants to buy.
Anne Sheffield shines in this department. Known for the magical engagement rings that she makes, this brand extends the meaning of the diamond to more than just the sparkle of the stone. The brand adheres to the highest standards in producing fine jewelry. Its attitude towards the earth and its finite but generous resources reflect in how intricately and preciously treated each of their rings are.
Each design follows the signature combination of modern and timeless cuts and settings, designed for customization as needed by certain couples. The designs themselves speak a fine language, as this fine jewelry looks every bit elegant. Anne Sheffield put back the bedazzling in bespoke jewelry. This certainly should be one of the top independent jewelry brands in the US to make space for in your jewelry box.
Vrai
In talking about jewelry, it's hard to not mention diamonds in the same breath. This goes even for millennials who may not be their biggest fans. Vrai transforms attitudes by creating a space for what's important to younger consumers. It makes space for the causes that come with supporting a brand.
Instead of mining diamonds, the brand grows diamonds in specific laboratory settings while cutting their emissions to zero. This makes their diamonds easy to cherish–because they also cherished the surroundings by not adding to its degradation. This may be a way to become one of the top independent jewelry brands in the US for millennials.
Anita Berisha
Though born and raised in Kosovo and with no prior plans to get into jewelry, Anita Berisha may be a top consideration when asking, "Who sells the most jewelry in the US?" Her experience in life and in her home country laid the foundation for a self-taught jewelry designer.
Her style has been touted as minimalist yet playful, but at the heart of it remains the designer's observant eye. She captures the shapes of nature, translates them into jewelry, and creates pieces that form a new impression each time. To date, Anita berisha remains one of the top jewelry brands recognized all over the world.
Kinn Studio
According to founder and CEO Jennie Yoon, she started Kinn to replace the priceless heirlooms that their parents lost in a robbery. This LA-based brand soon blossomed, becoming the answer to people's question, "What jewelry brand is a good investment?" Because even though Kinn just launched in 2017, it creates pieces that last a lifetime.
Rather than the jewelry or the brand defining the piece that is passed onto generations, Yoon believes that the wearer holds more power. Because each jewelry owner crafts its stories, and the chosen Kinn jewelry becomes witness to this. And as the piece passes hands from generation to generation, stories upon stories are added onto it.
And it pays to have a durable yet delicately-designed piece from Kinn to pass on those valuable stories.
Cartier
When you hear the word "independent brands," the expectation is that they come in small but fierce ways. They may not have the big-brand names yet but they certainly have the edge to get there in no time.
So Cartier may seem more to be one of the big names when asking "What brand of jewelry is most popular?" than as an indie brand. However, if it's a matter of consistently being adaptable then it's no wonder Cartier managed to stay on top. Being adaptable here means the brand changed to suit the needs of its customer base.
At the end of it, it lies in how a brand delivers its promise and its products. Cartier continually tries to understand its market and explore how it can reach their targets. For instance, millennials have become notorious for shying away from the diamond industry in lieu of experience.
So how does Cartier respond to this? By expanding its market base and looking at the different demographics that hold an interest in the luxury space. Cartier remains a luxury brand, because it worked on being relevant. It hyped products like fine watches to its younger market. Additionally, it combined technology in reaching an audience that can still appreciate a story or two behind fine jewelry.
Want to know more about the top jewelry pieces that made waves in 2021? Check the list here on "12 Best-Selling Jewelry in 2020/2021."