What's a split shank setting? It's a different way to do diamonds and one that is becoming more popular. Split shank settings are an attractive way to add a little edge to your engagement ring and wedding band.
You may have seen them growing in popularity over the past few years. This style has also caught the eye of celebrities, with some even wearing it on the red carpet.
Here we'll discuss essential things about split shank settings. You'll discover how they work and why you might prefer one over another depending on the shape you want for your engagement ring or wedding band.
What is a Split Shank Setting?
Split shank engagement rings are one of the most popular diamond designs. This classic ring style first appeared in the late 1920s, but it saw a massive surge in popularity in the 70s, 80s, and 90s.
What does split shank mean? A split shank is a ring setting that features two separate shanks. One is the top part of the ring that sits above the center stone, while the other is below it. It is a unique setting because it allows the diamond to be set in a way that highlights its beauty.
Does split shank make diamond look bigger? Unlike a solid band, both shanks are not attached to one another at any point during their journey down to your finger. The result is an illusion that makes your stone appear larger than it is—a fact that makes split shank settings so appealing.
Split shank engagement rings are stunning, but can be tricky to work with–especially if you're planning on getting married one day.
What are the Best Diamond Shapes for Split Shank Settings?
Split shanks are among the most versatile settings. Almost any type of diamond shape can use this setting, including round, princess cut, cushion cut, and more. However, choosing a split shank setting style can be challenging as there is so much variety.
You'll most commonly find split shank settings with round diamonds—there's a reason for this! The unique design of the diamond setting allows for maximum light refraction, which makes it perfect for showcasing your stone.
The classic round split shank setting is perfect if you want to make a statement with your wedding band. This design's straight lines and sharp edges will catch the eye and make your ring look dazzling on your finger!
Consider a princess cut diamond in a split shank setting if you're looking for something more unique. This gorgeous combination is sure to turn heads wherever you go.
You can also combine it with other settings. For instance, split shanks are integrated with bar settings such as diamond bar open split shank ring. Is a bar setting secure? Yes, it is among the most secure ring settings.
What are the Best Designs for Split Shank Settings?
Many split shank designs are available. One of the most popular is a split shank with a single prong, also known as a princess cut. This design makes you look like a solitaire without paying for the extra weight and cost associated with an actual diamond split shank solitaire engagement ring.
A split shank setting only has a single prong, but its design is simple and elegant. This type of setting is often combined with other designs, such as pave or baguette settings.
This is different from a traditional solitaire engagement ring which has four prongs. This allows you to save money on weight, which makes the setting more affordable than a standard diamond solitaire ring.
If you do not want to go completely diamond-free but still want the appearance of one, then this design is ideal for you. If you want to emphasize brilliance, well, a moissanite is a brilliant option!
There are also double-pronged split shank settings that have two prongs. This type of design can be worn with a single stone or multiple stones, depending on the size and weight of the gemstones you want to use.
A double pronged setting is also suitable for larger stones because it helps support their weight better than a single prong.
Other popular designs include the bezel setting, which has a small rim around the entire outside edge of the stone. This design is popular because it sets off any gemstone and makes it look larger than it is.
A basket split shank setting is another popular design. It has a small rim outside the stone and looks like a basket from above. This design is one of the most popular for men and women because it makes any gemstone look larger than it is.
The basket setting allows you to use almost any type of stone, from large diamonds to tiny pearls, and it looks great in every setting. This design is one to consider if you want a classic look for your ring.
What Advantages Does a Split Shank Setting Bring?
While many people think that a split shank is purely decorative and doesn't add any practical value to the ring, there are many advantages to having this setting.
The main advantage of a split shank setting is that it makes the ring more durable than when set in one piece.
Another obvious advantage is that it makes it easier for the wearer to clean their ring since dirt can't get trapped inside the shank as quickly.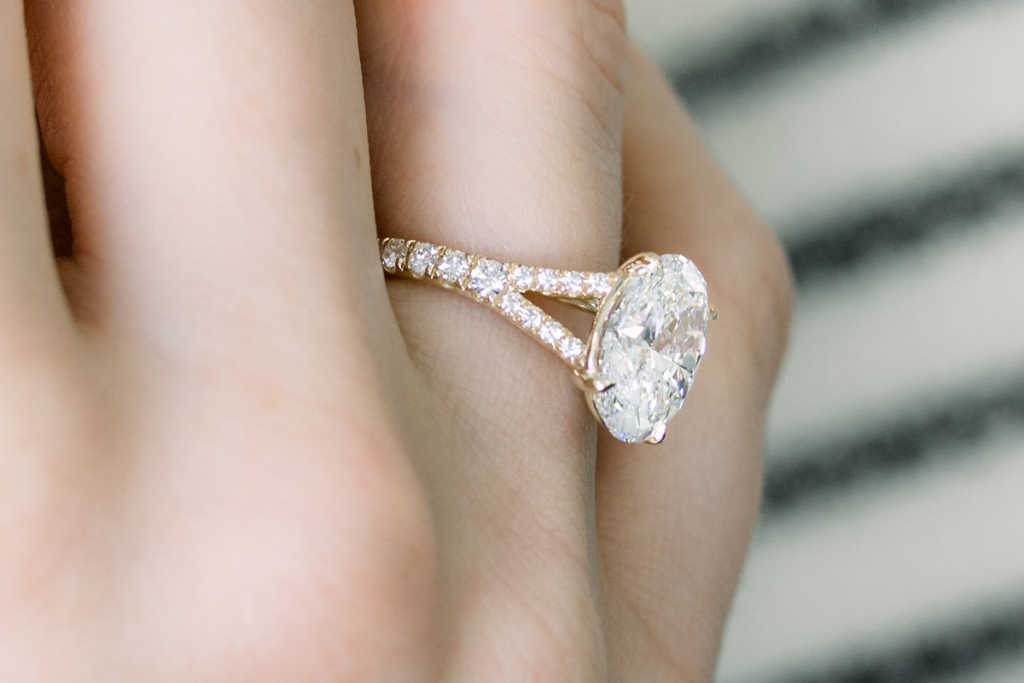 A split shank setting is one of the most secure diamond engagement ring setting styles. It will also make your ring look unique, as many other rings have yet to be created with this type of setting.
This style differs from other settings, such as bezel or channel set stones. For example, a bezel set stone has an edge that goes around the outer surface of the gemstone; a channel set stone is placed inside a groove carved into the metal.
Are there Split Shank Setting Disadvantages?
Split shank settings are often considered a disadvantage because they can be more complicated than prong settings. This is because the stone sits on top of the shank instead of being supported from underneath by prongs. 
This can make it more challenging for jewelers to achieve an even setting and also means that stones set in split shanks are prone to bezel-upsetting if not well secured. They are comparatively more expensive than other types of diamond settings.
They can be challenging to set into place; they require special tools and often must be set by hand rather than with a machine. The split shank settings are more difficult to set than other settings.
For example, if you're setting an opal, it's easier to use a pronged setting than a split shank design. Likewise, if you're setting a stone with small facets, getting the prongs in place without damaging them can be difficult.
They are relatively less durable than a prong or channel setting. The split shank setting is more susceptible to damage than other settings. If you drop your ring on the floor, it may be cracked or shattered; it's also easier for thieves to remove it from its setting.
Moreover, the stones in split shank settings tend to be smaller because any other metal does not support them. This makes them more prone to falling out of the setting. In addition, the cheaper-quality stones may need help to take the pressure of being set in a split shank setting.
How to Clean a Split Shank Setting Ring?
An ultrasonic jewelry cleaner is the best way to clean a split shank setting ring. This machine will not only remove dirt and grime from the ring but also sanitize it.
If your split shank ring has a gemstone, you should take it to a jeweler for proper cleaning. They can clean the setting and remove any accumulated dirt or debris over time (especially if you wear your ring constantly). In addition, they can also examine the stone closely and ensure it is secure in its setting.
Of course, the most practical way to keep your split shank clean is by doing it on your own. Here are some tips for cleaning your split shank ring:
Use mild soap and water to remove any dirt or grime from the setting.

Scrub the inside of the ring using a soft toothbrush. This process will remove any dust or dirt that accumulated on your gemstone's surface over time.

Use a damp cloth to wipe down your ring and remove any excess soap or water from its surface.

If you are worried about damaging your ring, use a soft cloth to wipe down its surface. 

You can also store it in an airtight container filled with water for 24 hours before putting it back on your finger. This method will ensure that the dirt has been removed from your gemstone and setting.
Where to Buy Split Shank Engagement Rings?
There are many places you can buy a split shank engagement ring. Buying an engagement ring is considered among the top biggest purchases anyone will make aside from buying a car or a house. As such, it's essential to know that the right place to buy your engagement ring is from a reputable jeweler with experience in making high-quality jewelry and setting stones. 
Some of the most popular places include:
Local independent jewelry stores. Brick-and-mortar jewelry stores are among the most popular places to buy engagement rings. Compared to large stores, they offer unique, hand-crafted products, which means you'll be purchasing jewelry pieces that no one else has.
Many people buy engagement rings from diamond jewelers because they can work better with your budget. With their personalized service, your next-door jewelry shop will help you find the best piece for your money.
Online jewelry stores. Online jewelry stores are another popular place to buy engagement rings. Most of them have a more comprehensive selection of diamonds and gemstones than their physical counterpart.
Many people opt to buy their engagement rings from online jewelers because they want to get great deals on beautiful diamond jewelry without having to leave the comfort of their homes.
Big box chain stores. Large, multi-branch jewelry shops serve the most number of split shank ring buyers since they have branches in almost every major town and city in countries worldwide. Because of their extensive inventory, they tend to always have something that meets your requirements.
Many buy from jewelry store chains primarily due to easy access and relatively lower prices.
Top Celebrity Split Shank Engagement Rings
A significant reason split shank set rings have regained popularity is that the rich and famous are buying them. These high-shine designs are popular among celebrities and perfect for those wanting to stand out from the crowd. 
Here are some of the celebrity split shank engagement rings many have been talking about:
Kim Kardashian. Given by Kanye West, this split shank engagement ring was made by Lorraine Schwartz. It has a pear-shaped diamond surrounded by a halo of round diamonds set in platinum. Kim has also worn other split shank engagement rings, including one with an emerald-cut diamond center stone and another with a cushion-cut diamond center stone.
Princess Diana. The late Princess Diana was a fashion icon, and her engagement ring is no exception. Her ring features a large center stone surrounded by two smaller side stones. The three diamonds are set in the split shank style, which gives them all plenty of room to shine!
Blake Lively. It was 2012 when Ryan Reynolds sought the help of Lorraine Schwartz—Lively's favorite jeweler and friend—to design her split shank engagement ring. How big is Blake Lively's engagement ring? At 12 carats, Blake's engagement ring is a solitaire-set oval pink diamond in a light blush setting. Its matching rose gold band is wrapped with small sparkling diamonds.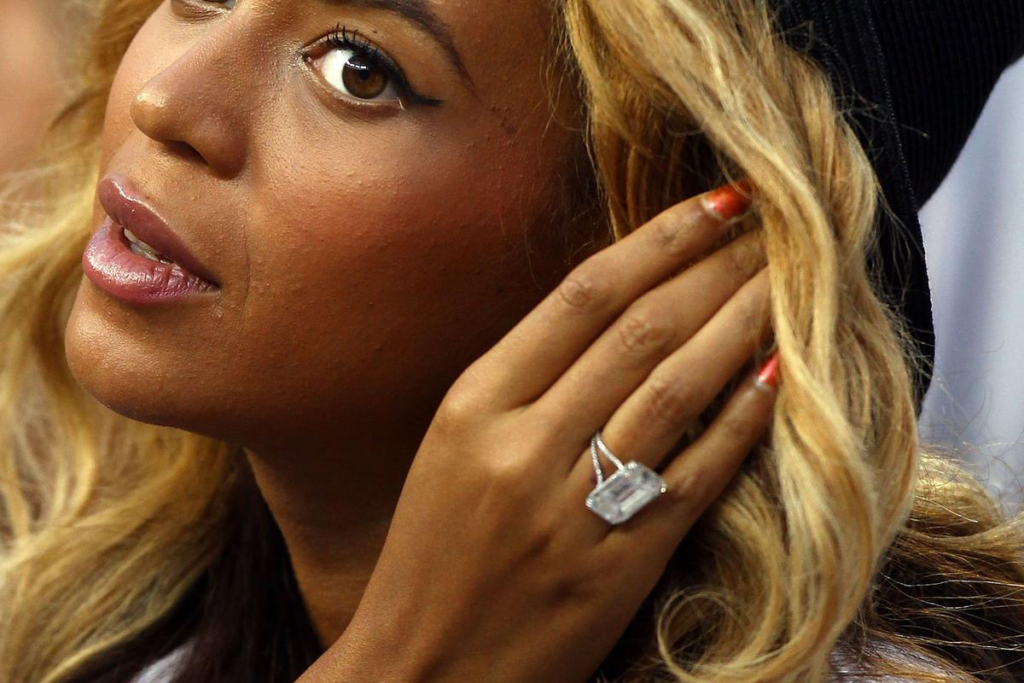 Beyonce. Beyonce and Jay-Z made headlines when they got engaged, and this vintage-style ring is one of the reasons why! The gorgeous split shank diamond engagement ring has a stunning emerald cut diamond in the center with an old European-inspired design.
Jennifer Lopez. Her engagement ring from Alex Rodriguez is a gorgeous oval-shaped diamond set in an intricate platinum band. Jennifer's engagement ring features a one-carat center stone with two additional smaller diamonds on either side.
Katy Perry. This pop icon's diamond split shank engagement ring from Russell Brand features a unique design with two diamonds wrapped around the band to form a heart. The ring has an old European-style feel and is made of platinum with two round-cut diamonds set on either side of the center stone. 
Stand Out in the Crowd with Your Split Shank Ring!
A split shank setting is famous for engagement rings and other fine jewelry. More and more A-listers and ordinary people choose this ring style over others for their engagement rings and different jewelry needs.
This setting uses two prongs on either side of the diamond rather than one single prong in the center. This setup can help protect the stone and improve the overall look of your piece. 
The more intricate process of creating this setting makes it more appealing to choose for engagement rings and other jewelry types. So if you want something out of the ordinary and make you stand out, this setting is a definite must!
Before you go, you'll likely appreciate reading our post, "Engagement Ring Trends 2022: Stones, Metals, and Design," to remain updated on what's hot and what's not in engagement rings.