Women love bracelets. They make them feel better and more confident. They are a necessary part of a woman's apparel for any occasion. To the casual observer, they are all the same—an ornamental band, hoop, or chain worn on the wrist or arm. You can buy them everywhere—from funky bracelets sold by sidewalk hawkers or fashion bracelets from
Kendra Scott.
But if you want to be a little more classy, go for Tiffany and Co bracelets.
How Bracelets Came to Be
The word "bracelet" came from the Greek word brachile, meaning "of the arm," through the Old French word bracel. Aside from being an ornament for the wrist or arm, a bracelet is also a small brace or bracer (an armed guard used by archers).
Bracelets are very much a part of human evolution. They have been used as fashion accessories in Egypt as early as 5000 BCE and have been found in Russia that are thought to be over 40,000 years old. Greek soldiers wore leather bracelets to protect their wrists, thus becoming a traditional part of their military uniform.
Bracelets for women became extremely popular as fashion accessories in the Middle Ages. It fell out of fashion soon after that, only to re-emerge in the 17th century. In the 20th century, men started wearing them as well,  but they were simple and singular compared to the more stylish and ornate types worn by women.
Religious and Historical Meanings of Bracelets
Throughout history, bracelets have been held in high esteem by religious and secular circles. They have been worn to guard against evil spirits or the harsh sun. They outwardly represent marital status. For the superstitious, bracelets were worn in hopes of encouraging winter to turn to spring sooner than later.
While there may be bracelets worn to help in healing and prosperity, there are also bracelets worn by slaves to indicate their status. Bracelets have historically been used as a way for the upper class to show their status in society or as symbols of causes they are passionate about. In China, parents give
jade bracelets
to their children to remind them of their protection and love.
Today, they are essentially fashion accessories – though some wear them for a special reason. For example, people wear charm bracelets to represent a special time or occasion in a person's life. Some are simple  rubber (baller) bracelets printed with words or symbols to indicate the wearer's passion or cause he cares for
Nowadays, friendship bracelets are common all around the world. These are exchanged between friends to symbolize their bond.
Bracelet Materials
Modern-day bracelets are made of various materials. They are either bare and simple or ornate and with gemstones. But this has not been what it used to be. Ancient bracelets were often made of grass or reeds, tree limbs, shells, animal bones, or stones.
Bracelet materials then evolved into copper or bronze. After the Bronze Age, gold and silver came into vogue, with silver the most common of the two. From there, it was only a small step into having bracelets inlaid with bronze or semi-precious and precious stones. Some bracelets showcase birthstones.
Types of Tiffany & Co Bracelets
For decades, bracelets underwent several transformations and forms – from defiantly bold to delicately minimalistic statements. Through it all, the Tiffany bracelet is at the forefront. Today there are at least 10 bracelet types in the market.  These are:
Bangle bracelet
A bangle bracelet is a solid, non-adjustable bracelet that is completely round (there are, however, some open bangle bracelets). They don't usually have a clasp and are made from a variety of materials such as gold, silver, jade, and more. They also come in different widths – some are 2mm wide, while others are 12mm or wider.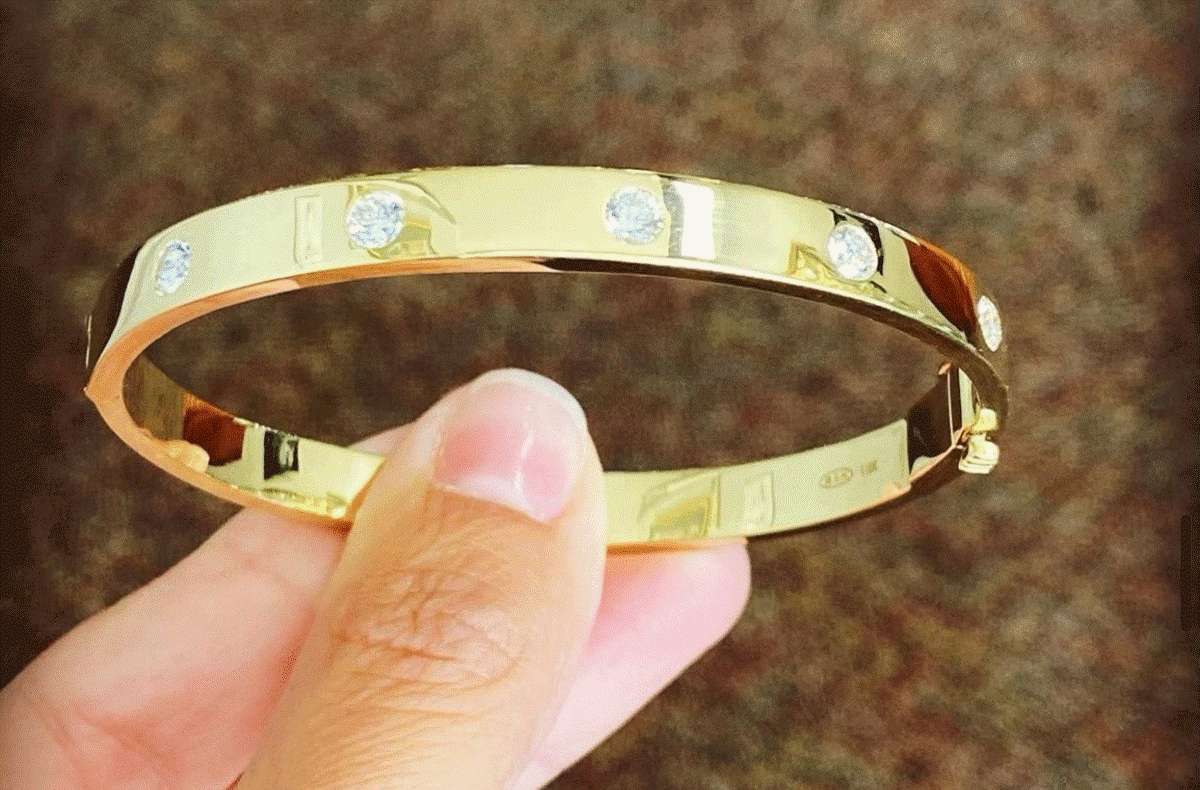 Bangles are a timeless piece of jewelry item, having been around since 2600 B.C. They are a great way to express yourself. They can be worn for any event or daily wear, and smaller bangles can be stacked with other bracelets.
Cuff bracelet
A cuff bracelet is a type of bangle bracelet that has an inflexible circular or oval shape. It is designed to fit looser on the wrist and is wider and chunkier than a bangle.
Its history is quite complex. There was a time when the cuff bracelet was associated with the word "slave" because they were worn by African and Caribbean slaves.
Cuff bracelets once signified "love" in India, and were once called the "love bracelet" because men gave them to women to win them over.
Today, the cuff bracelet has no significant meaning other than purely a fashion item.
Charm bracelet
A charm bracelet is a type of bracelet that carries ornaments or "charms" which usually carry personal or sentimental meaning to the owner.
Charm bracelets go back to ancient times when Persians and Assyrians wore them as talismans and amulets. Early Christians wore the " fish " charm to identify them as Christians.
Nowadays, it has become traditional for young girls to add charms to their bracelets to signify milestones of some sort, such as birthdays, graduations, engagements, and so forth.
Tiffany & Co sells charms such as flowers, hearts, letters, animals, etc. that will perfectly match its gold bracelets.
Gemstone bracelet
If you are into diamonds, you may wonder what gemstone bracelets are. Is a diamond bracelet a gemstone bracelet? After all, diamonds are gemstones as well and are associated with strength, love, and health.
Strictly speaking, a gemstone bracelet is a kind of bracelet adorned with gemstones that align with your body's
seven chakras, 
such as smoky quartz, carnelian, citrine,
rose quartz
, chalcedony, etc. Having them on a bracelet is thought to provide a good balance between mind, body, and soul.
Wearing a multi-stone bracelet, with a stone for each chakra, is believed to unblock all that is obstructed and crack yourself open to receive all the treasures the universe offers.
Tennis bracelet
 A tennis bracelet is a single strand of small gemstones, usually diamonds, in a plain, flexible string setting. These gemstones are usually set in gold, silver, or titanium.
Tennis bracelets got their name in the 1987 US Open when
Chris Evert's
diamond bracelet flew off her wrist while playing a crucial match. Officials stopped the match and gave her time to look for her lost jewelry while the crowd eagerly watched.
Link bracelet
A link bracelet is a flexible bracelet made up of a series of links of various styles and sizes. The links can be a simple metal metal such as those used for a chain or large links decorated with gemstones. Or they are made of complicated openwork patterns.
Link bracelets are unique as far as bracelets are concerned. They are essentially made of metallic links connected to form a single piece of jewelry. There are gold or silver bracelets as well as titanium. Most are simple links, while others sport little trinkets or charms suspended from the links.
Leather bracelet
Leather bracelets span a wide range of civilizations—from the Egyptian pharaoh Tutankhamun (1332 to 1323 BC) to the hippie movement in the mid-1960s. In between were the Ancient Roman and Greek civilizations, Spartacus, the Vikings, the Huns and the Goths, and Native American Indians, all wore leather bracelets of various kinds, styles, and reasons.
Nowadays, both men and women wear leather bracelets for personal adornment rather than for any practical reason. The shape, size, and overall appearance are dependent on the wearer's personality, taste, social standing, and lifestyle.
Modern-day leather bracelets generally belong to three categories. These are:
Wide bands or cuffs are commonly worn by big, burly, and muscular dudes or hard-core bikers and heavy metal musicians.
Strap bracelets typically complement wristwatches. Wearing one is thought to add a strong masculine touch to an outfit.
Rope-style bracelets are worn by non-conformist types such as surfers and skaters. On the upscale side, many fashion-conscious men and social media influencers sport this type of bracelet.
Leather bracelets have meanings, too. For example:
Black: are all business and responsibility. The color symbolizes power and strength, especially if paired with gold or silver. And if overly embellished, it could exude an air of mystery, dominance, or rage.
Brown: projects an aura of practicality to the wearer.  Stolid and practical, but not boring. It projects the image of the great outdoors and a spirit of adventure.
Dark green, though not a conventional color, is soothing. It is a color that projects serenity that goes well with men who are in touch with their gentler side; who live in close contact with nature.
One downside of leather bracelets compared to the previous types is their strength and durability to withstand the rigors of daily wear. To mitigate this weakness, be sure to buy leather bracelets made of cowhide.
Beaded bracelet
Beaded bracelets are made from loose beads, which are linked together using a string or elastic band inserted through holes in the beads.
Beaded bracelets, according to popular belief, provide the wearer with certain luck and energy, and their meanings and symbolism are dependent on the prevalent color of the beads.
Fashion bracelet beads typically use glass, plastic, or stone beads. Worn by both men and women, beaded bracelets are very versatile as they come in an assortment of colors and designs. And since they are easy to make, you can personalize them.
Stretch bracelet
This type of bracelet is casual, sporty, and unique. Stretch bracelets are made from rubber, elastic, or other types of synthetic materials designed to slip or slide over the hand and into the wrist.
 Stretch bracelets became popular during the LiveStrong campaign but have taken a new life of their own. They are very popular among athletes and people who are allergic to metals.
Wristwatch bracelet
Writwatch bracelets are both functional and fashion statements.
They are a strap, band, or bracelet with a wristwatch attached. Wristwatch bracelets are usually made of leather, plastic, rubber, cloth, or metal. The metal used is either stainless steel, titanium, or gold.
How to Buy (Her) a Tiffany & Co Bracelet
Buying a bracelet for her is no different from buying another piece of jewelry—it can be difficult, challenging, and expensive.
To hurdle all these, the following tips can be of great use:
Plan
If you want your gift to make the most impact and achieve its purpose, know the following:
Find out from her friends or family members if she is keen on receiving a bracelet as a gift. If she is, what kind?
Look through her FB or Instagram accounts to see what type of person she is, her likes and dislikes, and the types of jewelry items she is fond of.
Size
This is very important for non-stretch bracelets. The gift would be ruined if it doesn't fit.
Again, you can get input from your friends to get a good estimate of her wrist size. Or you may do it yourself using the chart below as a guide.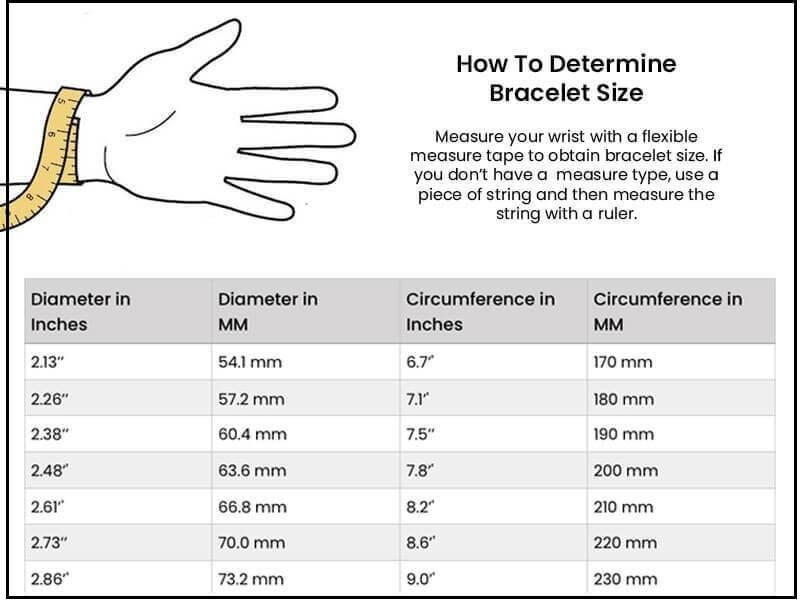 Style
Make a casual observation of her jewelry. Are they simple and casual? Does she wear jewelry only to parties or special occasions or does she wear a few items every day?
If she is a bit on the classy side or has an affinity for life's meanings, then a gemstone bracelet would be great. Or maybe a bracelet adorned with emeralds, rubies, or pearls.
For a girl who is active and social, give her something more elegant, like a tennis bracelet, for example.
Budget
It is always tempting to get carried away when giving a gift to someone special. But don't go beyond what you can afford.
If you can afford it, go all the way and buy her a diamond bracelet. As the saying goes, "A diamond is a girl's best friend." But if this will take you over the precipice, gold or silver bangles will be just as good. They can both be worn on special occasions or daily.
Think "Quality"
You can buy a good bracelet on the sidewalks of all major cities. They look expensive and presentable. But how long will they last?
So if you buy something for a special person, get a Tiffany bracelet, especially the Tiffany gold bracelet. They are made of 18K gold and backed by the company's unassailable reputation for high quality and excellent workmanship behind their products. 
Though they may seem expensive, you can be sure what you are buying is worth every penny of your budget.
The Tiffany & Co. bracelet exemplifies what the company has stood for since its founding in 1837. While the brand is best known for its diamond rings,
Tiffany's silver bracelets are not far behind. They carry what the brand is known for—innovative, high quality, creative, and sustainable.