In a time where modern styles dominate, some jewelry owners turn to older, classic styles for inspiration. Among these older styles is the cathedral setting engagement rings. As the name implies, the design is quite traditional, bordering on an antique finish and resonating with the kind of style reserved for the intricate yet divine.
Whether you want a unique addition to your jewelry box or if you want a more unique engagement ring to stand out, put the cathedral style ring on your list. It might just be the most alluring piece of jewelry to make your collection even more dazzling.
The Gospel Truth About Cathedral Rings
The name should already serve as a clue on what to expect with the design. Cathedral setting rings reflect the intricate curves, lines, and engravings found on cathedral architecture. Think of the most famous and infamous cathedrals, with its magnificent arches, distinctive height, and awe-inspiring spires. Now, imagine that translated onto the metal setting for your engagement ring.
Because of this unique structure, cathedral setting rings tend to have a more distinguished side profile. While the gemstone typically serves as the main star of most rings, a cathedral setting puts the precious metal in the limelight as well.
However, it does so in an inclusive way. That's because even if the setting's intricacy becomes the highlight, the diamond gemstone does not lose out either.
What is a cathedral setting on a ring?
When talking about the cathedral setting, it entails more intricate designs on the setting and the band of the ring. Many cathedral settings share a high side profile, since this is where most of the designs are carved and engraved.
Most cathedral rings share arches leading to the gemstone's setting. These arches flourish into the shape of the cathedral's rooftops. Even with the unique design, most cathedral rings still feature secure settings. Depending on the style, they can set the gemstone with prongs, bezels, or even tension-style settings.
The coveted side profile
Some jewelry artists would put extra care to create looping and spiraling designs on the side of the band leading to the ringhead. Oftentimes, these stylized arches appear geometrical in nature, again mimicking the architecture of olden cathedrals.
A common question that jewelry hunters ask is, "Does a cathedral setting make diamond look bigger?" This often originates from the extra height the setting provides. Since the goal is to create arches that mimic cathedral doors and spires, these end up pushing the ring to a higher setting. It creates a more prominent and stylistic look without having to add too much cost, like with additional gemstones.
Types of Cathedral Ring Settings
Cathedral rings tend to have more versatility in design because of the different types to choose from. In fact, one may even say that it is among the most customizable rings available for engagement rings. Thus, those who prefer a more unique one-of-a-kind ring may resort to having one made in this design.
If you want your engagement ring to be truly unique, consider some of these options. Some styles may even be combined with each other, as long as your jewelry maker allows for it and has the capacity to do it.
Cathedral pave setting
If the ornate quality of the setting is not yet enough, you can enhance it with the cathedral pave setting. This means lining the band with smaller diamonds or gemstones, in the style of this James Allen 14K White Gold Petite Pave Engagement Ring.
This style works if you want more sparkle on your ring, and if you have the budget to spare. The pave style sets off the ornate cathedral setting, giving it a more modern twist.
Split band arches
Don't have the budget for pave diamonds, but want a more daring and unique band? Split band arches can be a nice touch to your cathedral ring. When you opt for a split band, this creates a delicate loop on the band that ends with two shanks to hold the diamond in place. It may not be the most common cathedral setting, but it magnifies the gemstone without compromising the secure lock.
Best of all, a split band looks gorgeous, especially when paired with the right precious metal. While you can never go wrong with the traditional yellow gold, rose gold adds a touch of elegance because of the youthful appeal of this precious metal. The choice of stone can also affect how it looks. A pink rose quartz or morganite may even appear like a rose on top of earthy vines with a split band finish to the ring.
Petite cathedral settings
Because of the heavy setting for cathedral style rings, it's not impossible to have thicker bands for this style. This may even be considered the norm, to secure the setting onto the band itself.
However, as more women prefer a more delicate finish to this vintage classic, the style also has an alternate form: the petite cathedral settings. The thinner band measures less than 2mm wide. With master jewelry makers, this does not pose a threat to the security of the setting. And it can make the diamond pop out even more, making this quite an interesting ring style, like this Natalie Diamonds Hand Engraved Vintage Style Emerald Cut Diamond Engagement Ring.
Why Go For Cathedral Setting Engagement Rings
So should you go for a cathedral ring? There may be many reasons to go for this style. But if you are looking for great style, affordability, and a versatility for looks, then all the more should you consider this type of engagement ring.
A unique ring
Since more jewelry owners these days now prefer one-of-a-kind jewelry pieces, the cathedral ring has received quite a favorable light. Though many may think of it as an old-style ring, it can actually be modified to suit one's preferences.
Its defining factor may be the arches. However, with modern technology, there are many ways to construct this in a more effective and creative manner. Some may even wonder, "Does cathedral setting make stone look bigger?" Depending on the skill of a jewelry maker, cathedral rings can make the gemstone the defining feature of the entire piece.
Value for money appearance
For those on a budget, the question "Is cathedral setting more expensive?" always comes up when scouting for rings. Cathedral rings become the go-to style for those who want a more ornate and striking ring, without having to add on the gemstones. It's also the ring that best showcases an artist's talent when it comes to working with precious metals.
When To Avoid Cathedral Settings?
On the flip side, some jewelry collectors may avoid cathedral rings because of a few issues. A lot of these involve the overall maintenance, especially if you're the type to not have enough time to spend cleaning your jewelry.
Effortful maintenance
Thanks to the intricate design, cathedral rings can be harder to maintain. Apart from the typical arches, more traditionally-designed cathedral rings have the flair for theatrics. Designs like these tend to have nook and crannies that may be harder to maintain.
A double-edged sword with intricacy
Despite its beautiful form, not everyone finds cathedral setting engagement rings as a good fit for their style. The ring type's intricate design has another Achilles' heel: it can easily snag.
No one wants to risk losing a ring's diamond. And even though many cathedral settings are fairly sturdy, too many dings and bumps can loosen it, too. Because of the arches and intricate design, a cathedral ring can become too much of a hassle to maintain. If this is something you would rather do away with, go for a simpler design.
Cathedral vs Non Cathedral Ring Setting: How Does It Fare?
Before making that final decision, here are a few key differences between cathedral setting engagement rings and other setting styles.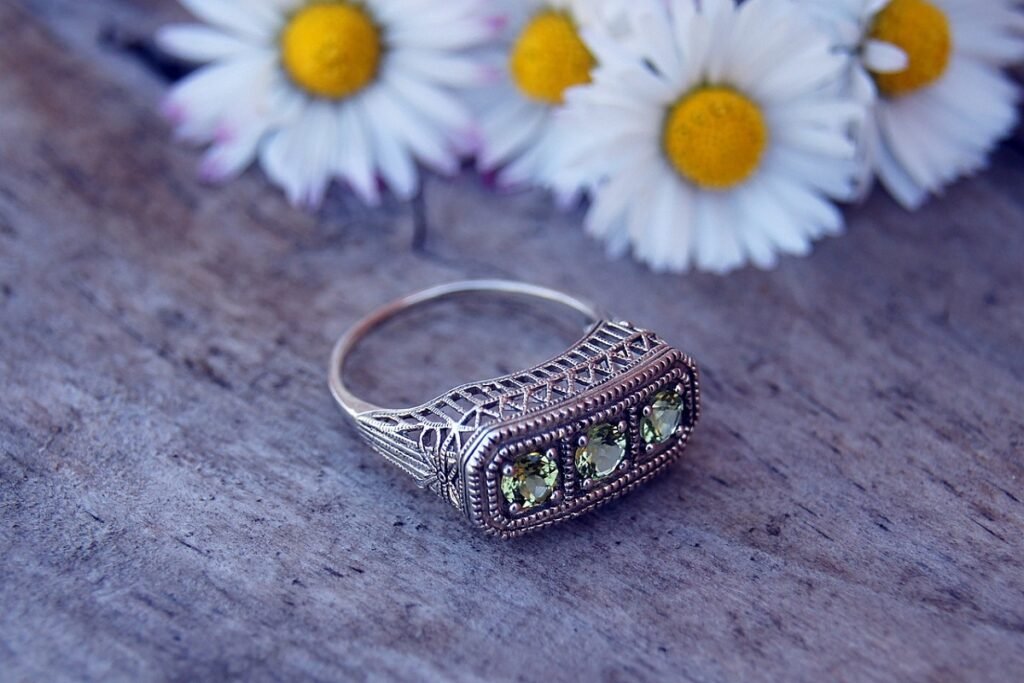 Prong setting
The prong setting can be tricky because some cathedral settings feature this style. Depending on the band's style, some cathedral setting rings can have four or six prongs to secure the diamond center stone.
This style essentially lifts the diamond from the band, which makes it the star of the show. Many jewelry collectors prefer the prong setting because it offers a timeless look. Its main difference lies in the intricacy of the cathedral setting, which can factor in one's preference and taste.
Trellis setting
If you want a variation of the prong setting, you may want to also consider the trellis setting. It shares a number of trademarks with the cathedral setting, such as the use of prongs and metals shaped to hold up the center stone. Depending on the overall style, some trellis rings can benefit from the pave setting, so that it can have a distinct look. Not all trellis settings use arches, which give the cathedral setting its classic silhouette.
Tiffany setting
Made popular by Tiffany & Co, this setting style uses either four or six prongs. It features thinner and smaller prong to give it a delicate finish. This also creates a more minimalist style, which can look great for modern-inspired rings.
If you choose to have the prong setting in combination with the cathedral style setting, then you may likely be getting the best of both worlds with a vintage style ring. However, many Tiffany setting rings tend to have very minimal intricate details. If you prefer to focus the attention on the gemstone rather than the band, go with a Tiffany style setting.
Halo setting
Perhaps one huge advantage of halo rings is that it's an easy way to make your diamond look a lot bigger. Halo rings can be quite versatile because you can choose how many halo settings to add to your ring. Some prefer surrounding the diamond with a single halo paved with smaller diamonds, others would prefer at least two or even three halo bands around the stone.
Some more experimental jewelry owners may prefer to have a different-colored gemstone either as the center stone or the smaller stones on the halo band. Whatever choice you make, it creates more possibilities for your ring's design. One tip to make diamonds appear larger: go with same-colored gemstones. In this way, the halo bands seem like an extension of the stone. Smaller gemstones tend to cost less than their larger counterparts. Halo extensions can achieve the same effect at a smaller additional cost.
Tension setting
Want to deviate from the traditional, antique look? The tension setting may be among the most modern you can get. The name derives itself from the technique used to set the stone. Unlike the prong or bezel settings, which secure the precious stone with metal links or prongs, tension setting suspends the diamond in place.
Just like its modern look, tension setting achieves this look with lasers. Jewelry makers craft an exact groove for the gemstone onto the band. This fits the stone perfectly into the band, with only the pressure of the metal bands holding the stone in place. Just because there are no metal suspensions does not mean it will easily fall with the wrong move. Some may apply extra precautions, such as a small bezel setting to anchor the gemstone.
This setting style works wonders for diamonds with a high clarity and color rating. Prongs can help hide imperfections, but the tension setting displays the entirety of the diamond. If you want to showcase your diamond in full with a simple but exquisite setup, you may want this approach.
Want to know the latest and trendiest styles for rings before making a purchase? Read "Most Affordable Diamond Shapes 2022: What You Need To Know."