The love of your life, the girl that you have always been dreaming of seeing walking down the aisle with whom you want to spend your life forever. You want your wedding day to be a memorable one, and there's just so much to do. You have the wedding gown, entourage, venue, and venue to think of. But before you get into any of those, you might want to give her the best engagement ring first, and get her to say Y-E-S! 
Why do we give so much importance to engagement rings? The short answer would be because marriage may take some time after the proposal. After all, there are so many to plan ahead of that special day. Giving an engagement ring is like marking a woman–signifying that she is already someone's fiancee or spoken for.
However, there is the problem of choosing the right ring to give to your girlfriend, not to mention the factors that contribute to the purchasing decision, such as "What stone will my girl like?," "Do I choose white gold or yellow gold?" or even "What is the size of her ring finger?." Moreover, budgetary problems are also likely to arise. These bring to mind another more important question, "How to buy an engagement ring?" 
How to Buy a Jewelry Ring
If you're having problems finding the perfect piece, we're here to help. In this article, we'll discuss everything there is to know in purchasing that perfect engagement ring. These tips, hopefully, will help you make that buying decision.
Tip #1: Know What Your Girlfriend Wants
It could be a little embarrassing to ask your girl upfront about what ring she exactly wants and don't expect her to tell you what she wants. Nevertheless, you'd want to meet her expectations while keeping the proposal a total surprise. To address this, put yourself in the shoes of your girl and ask this–"Is it common to pick out your engagement ring?" 
So what should you do then? One thing–be a keen listener to her stories. For sure, she's sending you signals. Girlfriends tend to tell about how they see their future in vivid detail. When she imagines something that she wants to happen, she will tell you a story about it. It might be about the place, the food, the smell of the surroundings, and even the reaction of the people around.
Therefore, there's a big possibility that she has shared a story on how she imagines your proposal would be, and how important jewelry is to her. There is no exact timetable for this. You must always be attentive to the subtle hints and little details that she may occasionally give out. 
Your girlfriend might also spit out details about how she wants to have the same ring that her father gave to her mother. This could revolve around the gem she wants and even the shape in which she imagines it. She may also tell you about a particular place to get it, making your job a lot easier. 
So, always keep your ear on the ground. Keep a little notebook inside your head to take note of even the tiniest of the details. 
Tip #2: Consider Your Budget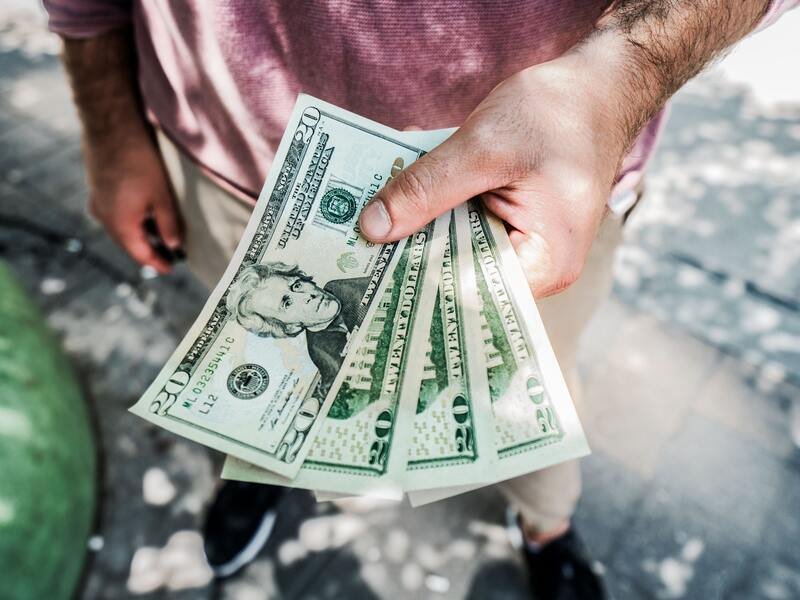 "I'm buying an engagement ring, how much to spend?"  Well, first of all, don't panic. Consider your financial status. Some have free-flowing money, but for others, getting cash could be a tad difficult. I know you want your girlfriend to feel extravagant, which can be a little frustrating if you do not have the means.
You may ask how to buy an engagement ring on a budget? If you are working on a tight budget but eager to give her something grand–then save up early. Plan the ring you want to buy and start saving small. Now, this may lead you to ask the question: "How much do you spend on an engagement ring?" 
There is a two-month rule formulated by De Beers, a known diamond company. According to its advertisement, the amount you should spend on an engagement ring should be equivalent to twice your monthly salary. 
Here is a graph from Creditdonkey illustrating the two-month rule. 
But there is a downside to this suggestion, especially when you consider factors such as your lady's expectations. We understand that you want that dream engagement ring her in her finger, but before you start saving, you should first know the numbers.
A survey by The Diamond Pro has revealed that the average spending on engagement rings in the United States is about $6,350. If you want to get one of the best, that is, Gordon's Jewelers' engagement ring costs $5,299. Shane Co's is worth $3,970, and Melanie Casey's is $1,399. These vendors should be your go-to jewelers. 
You may check out our tips on how you can buy jewelry online. Believe it or not, you might get the best deal there. 
Tip #3: Choose a Gem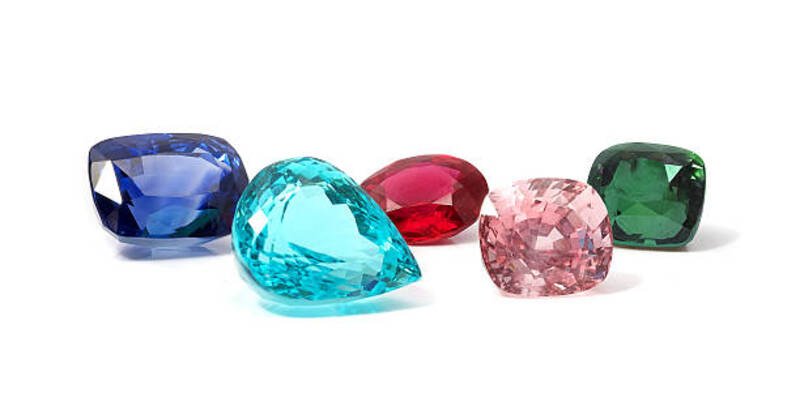 Gems are not just stones; they also have meanings and are believed to symbolize something. The most common stone used for engagement rings is a diamond. Diamonds are 58 times harder than any other material. Incidentally, it is also believed to symbolize a relationship that will never be broken or damaged. 
Although the diamond is an engagement ring staple, you can still choose a gemstone that represents the qualities and personality of your girl. A garnet or a ruby, with their bright red hues, are fit for those with fierce personalities, and symbolize strength. Amethyst and sapphire, on the other hand, indicate wisdom, while aquamarine is ideal for those with a calm disposition. 
Tip #4:
Know the Material
Platinum or gold–which is better? 
One advantage of platinum is that it is hypoallergenic. At the same time, it is worth more than gold because not only is it heavier but also more durable. It is even more prestigious than the rest (just like platinum cardholders can enjoy more privileges than those with gold status). Aside from these, the color of platinum complements those who have fair and rosy skin tones. 
However, some disadvantages that come along with the metal include the fact that it costs more than gold and needs to be polished and cleaned after a few years, just like other rare metals. There is likewise a possibility that maintenance can strip away some of the platinum.
Gold, on the other hand, comes in three variants: rose gold, white gold, and yellow gold. White gold goes well with diamonds than yellow or rose. It is also comparable to platinum, and gives that vibe of "prestige." However, yellow gold is the most hypoallergenic of the three. Yellow gold is also the most used metal in engagement and wedding rings. Lastly, rose gold complements both men and women and even different skin tones. It is also considered as the most romantic variant because of its pinkish color. 
Tip #5: Know Your Girlfriend's Size
Just like how Cinderella's glass slipper fits her like no other, the ring should fit your girl's finger well, if not perfectly. But you might ask, "How do I get my girlfriend's ring size?" Here are some methods that you should try.
Look in her jewelry box
It might be a bit obvious if you are to borrow one of her rings. If you have access to her jewelry box, find an opportunity to snatch one of her rings. You can use it as a basis for buying your engagement ring.
Ask someone close to her
Give her mom a call, she knows. Even before you have ever thought of giving her daughter a ring, she's been adorning her with them since birth.
Use a string
If both of you are into role-playing (the nice kind), pretend that you are giving her a ring by using a piece of string. Use the string to know her size.
Hold her hand
Entwine your fingers with hers, and get a feel of her size. Now, this might not yield the most accurate results, but if you have been holding her hands for years, you might just get it right!
Just a little friendly reminder for getting your girl's finger size–DON'T GUESS! The size of the engagement ring is a big deal for her. It should make her feel that it's made for her.
Tip #6: Buy From a Reputable Jewelry Shop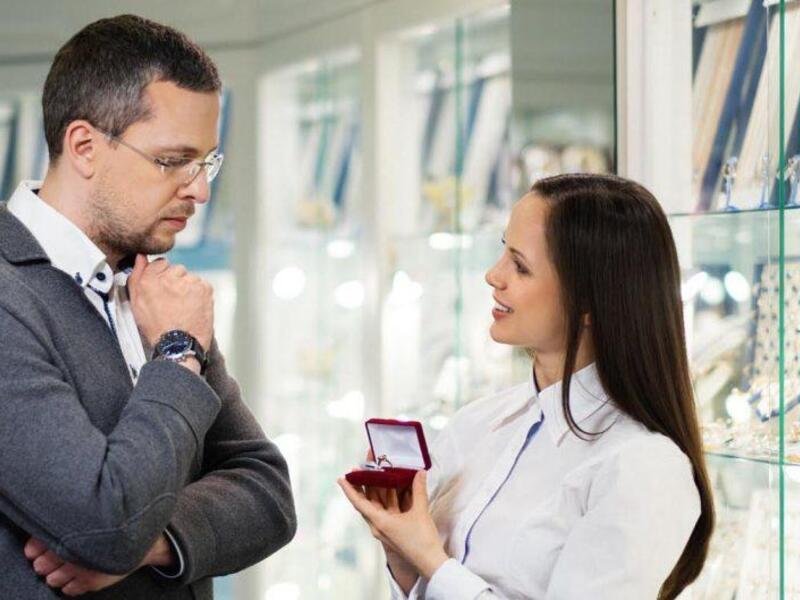 You don't want to be ripped off when getting that perfect ring for her. So the tip here is, buy from a reputable jewelry shop. Do your homework and find a vendor that can give you and your beloved all your needs. 
So how do you know that it's the best place to buy engagement ring? Ready your pen and paper. Here are some things that you might want to take down.
Look for the 

pricing value

. Are you getting your money's worth? Or are you just paying for the brand?

The store should have a 

wide selection; in

this way, you're sure that it could cater to different needs and wants.

Search for 

reviews

 online. 

The Jewelry Forum

provides a plethora of product reviews. The store should have positive product reviews, so you know it will serve your purpose. 
Now, if your problem is about a lack of time to go to a physical store, there are also top online jewelry shops that you can check out.
Final tip: LOVE!
Let us recap the tips on how to buy an engagement ring: Know what your girlfriend wants, consider your budget, choose a gem, know the material, know your girlfriend's size, and finally, buy from a reputable shop.
There you go with the tips, and we hope that you have enough notes before going to a jewelry shop. 
But before we go, you need not be overwhelmed by the many tips and notes we mentioned here. Keep in mind that love, above all things, is what should truly matter. Although there are expectations that should be met, such as the price tag, gemstones to choose from, and meanings that should be considered, and many more–it is love that will make her say yes. 
Knowing that you have done all these things for her and put so much effort into achieving even the tiniest details will surely help you win her heart. 
Go make her say Y-E-S, and we hope to see the two of you walk the aisle together!