Do you know that as of this year, there are about 50,000 jewelry stores in the United States? Among them are brand names that have become household bywords such as Tiffany, Cartier, Bvlgari, etc.,  and others that have escaped your notice. And considering this wide spectrum of jewelry brands in the market, you may wonder "what brand of jewelry is most popular?" Or "what are the top independent jewelry brands I don't know about?"
The world of jewelry is very convoluted. There are hundreds of genetic types, not to mention the dozens of center stone types, metal settings, designs, and other esoteric terms only a jewelry connoisseur may understand. However, regardless of type or classification, a jewelry item will always fall into one of two groups: branded or independent jewelry.
What is Branded Jewelry
Before going into the nitty-gritty of both, it is unavoidable not to mention designer jewelry."
You surely must have heard or known of the term. And each time you do, images of something that is unique, special, or one-of-a-kind pop up in your mind. In a sense, you are right.
Designer jewelry is that type of jewelry that adheres to certain aesthetic demands set by an individual craftsman, customer, or design company.  It is sometimes called custom-made jewelry and has its origins in prehistoric times. A good example is the burial jewelry of Queen Pu-abi of the Sumerian civilization.
In the past, designer jewelry type solely belonged to the domain of independent jewelers. Now, all branded jewelry have their own designer jewelry lines.
Now to get back on track…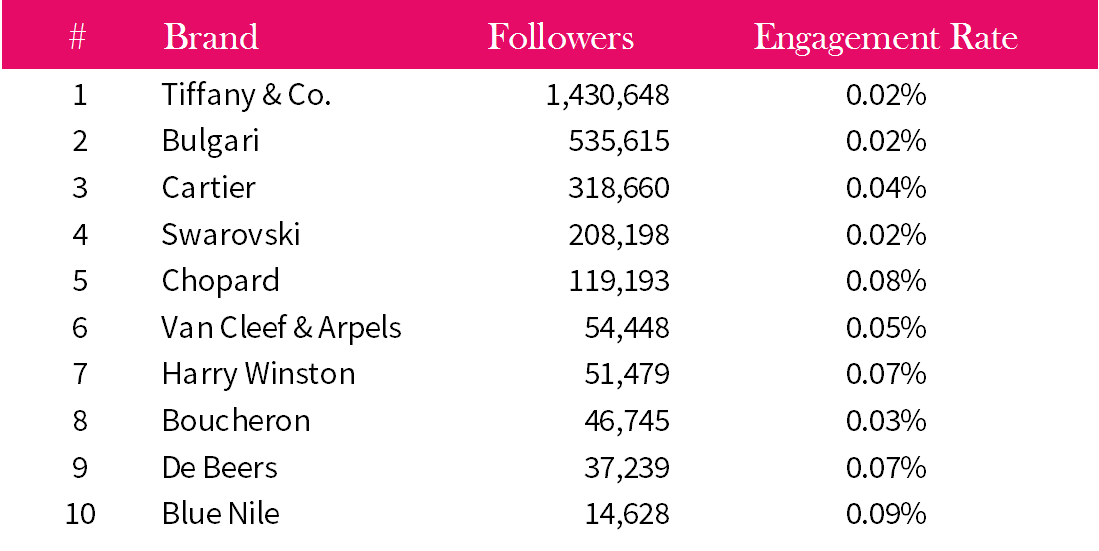 Branded jewelry is synonymous with fine jewelry. It is meant to make a statement; establish a  trend.  Needless to say, branded jewelry stores have more of this type of jewelry than of the lesser kind. While there is no accurate real-time data on how large the fine jewelry market in the US is, in 2017 it earned revenues amounting to $ 63.8 billion. And the bulk of these sales was generated by the following branded jewelry stores.
Harry Winston
Harry Winston was an independent jeweler who founded his store in New York in 1932. From his humble beginnings, he became the most sought-after jewelry brand in the world. Even today, celebrities like Madonna, Jennifer Lopez, Julie Andrews, and Natalie Portman wear some of Harry Winston's jewelry items. This earned him the title of "Jeweler of the Stars."
This company is also called "King of Diamonds," because of its strict adherence to using only the best quality gemstones in its jewelry creations.
Harry Winston also became famous for his acquisition of the Hope Diamond—a 45.42 carat, heart-shaped crown centerpiece, which he gave to King George IV of the United Kingdom. It now rests at the Smithsonian Institute Museum for display.
Cartier
If you're wondering what the most popular jewelry brand is, the answer is Cartier. Though founded in 1847 by Louis François Cartier, its design hasn't changed much. And people love it. They love Cartier's simplicity and symbolism. Its "Love" line of jewelry such as cuffs, engagement rings, wedding bands, earrings, and necklaces are among the company's most iconic jewelry items money can buy.
Consequently, its designs have inspired other branded jewelry companies to have their design concepts revolve around Cartier's creations. So what brands are similar to Cartier? To name a few, they are:
Bvlgari
Chanel
Chopard
Hermès
With its exceptional combination of platinum and gold, Cartier gained the reputation of being "The Jeweler of Kings, the King among Jewelers." And this is not a hollow statement. The Duchess of Cambridge is a Cartier fan. So are Angelina Jolie, Lupita Nyong'o, and Naomi Watts, among others.
Tiffany and Co.
Tiffany & Co. (initially Tiffany & Young), emerged into the jewelry limelight at the Paris World's Fair in 1867 where it was awarded the grand prize for astounding silver craftsmanship—the first time an international jury honored an American design house.
Today, Tiffany & Co. is a household name where one can buy some of the world's most expensive and rarest jewelry pieces.
Van Cleef & Arpels

Alfred Van Cleef and his wife, Estelle Arpels, opened a high-end independent jewelry store in 1906 in France. Today, "Van Cleef and Arpels" is one of the most prominent branded jewelry.
Van Cleef patented an innovative creation called Mystery Set. This is an intricate piece with a clip that will take about 300 hours for a skilled jeweler to make
Celebrities who love Van Cleef and Arpels include Queen Marie Jose of Italy, Mariah Carey, Margot Roble, etc.
David Yurman
Like Van Cleef and Arpels, David Yurman was also founded by couple David and Sybil Yurman in 1980. The company is famous for its shaped designs reminiscent of the American Craft Movement. It is also known for its cable bracelet embellished with colored gems set in sterling silver or gold.
David Yurman has its own following of independent jewelers. So if you wonder what jewelry is similar to David Yurmanbest jewelry brands, here are a few:
Hueb
David Webb
Pomellato
Mikimoto
Shakira, Jessica Simpson, Kate Hudson, as well as Brad Pitt are a few of David Yurman's followers.
Bvlgari
Bvlgari (sometimes spelled Bulgari), is an old company. Founded in 1884, it is, in fact, one of the oldest Italian jewelry houses.
The company was founded by a Greek named Sotiros Voulgaris who opted to use the Latin spelling of his name to make it look cool.
Bvlgari is famous for its large and brightly-colored gemstones to produce multi-colored effects (you can check out for yourself in this Bvlgari review). The company also re-established the cabochon cut (method of cutting gemstones with a convex, rounded surface without any facet).
The late and famous Elizabeth Taylor wore a Bvlgari, so did Keira Knightly.
The list offers a glimpse of the world of fancy jewelry. But it is enough to give you an idea of where to find (and buy) the best jewelry brands.
Top Independent Jewelry Brands
"Is it branded?" is a question a lot of people ask when shopping for jewelry. It's because the buying public has been brainwashed by incessant and expensive commercials of how great it is to be seen hanging from your ear lobes or wrapped around a finger or wrist.
Of course, none of this is entirely true. Good-quality jewelry is not a monopoly of branded products. They can also be found among independent jewelers. A McDonald's hamburger is not necessarily better than one made at home.
Besides, independent jewelers offer the most unique jewelry brands. And if you are running on a tight budget,  they also offer you the best affordable jewelry brands.
So who and what are they?
The following are the top independent jewelry brands.  They may not have showrooms as conspicuous and lavish as a Cartier or Tiffany, but they can give these branded jewelry stores a run for their money.
Lara Stafford-Deitsch
Lara is a jeweler based in Bristol, United Kingdom. She developed a passion for drawing while studying at Wimbledon College of Arts. As a jeweler, she incorporates the female form into many of her pieces, juxtaposing the natural beauty and serenity of the human body.
She specializes in precious metals and gemstones in creating jewelry that can be worn every day.
Suzannah Key
Suzannah is a graduate of the School of Jewellery, Birmingham, England. Her designs are influenced by her seaside upbringing in Devon.
She specializes in handcrafted effortless, everyday wear pieces as well as custom-made wedding rings. She also makes great drop earrings and pear-shell studs.
Anita Berisha
When people try to imagine what a jeweler is like, what comes to mind? A wrinkled old guy behind his workbench bull of jewelry materials, poring through a microscope.
Not Anita Berisha. This 27-yr-old American is already standing toe-to-toe with such brands as Gucci, Balenciaga, and Ashley Williams.
She's famous for handcrafted creations that trace the silhouette of white lilies and daisies. Her designs are contemporary, yet whimsical. One of her famous creations is a freshwater keshi baroque pearl choker. Jewelry-lovers find it a timeless classic jewelry piece.
Cartilage Cartel
If you're looking for stylishly cool and chic earrings that are affordable, Cartilage Cartel it is. This British-based independent jeweler has a complete line of ear stacks, cartilage earrings, huggies, hoops, cuffs, and drop earrings
Its aim is to supply stylish jewelry using high-quality materials and craftsmanship that is as good as the branded types.
And for those who are planning to have jewelry as a side gig, Cartilage Cartel also serves bulk orders.
Bazi Jewels
Bazi Jewels is owned by Sharan Chima, a London-based Indian independent jeweler.  She got the name from the Bazigar tribe of India—a nomadic group of acrobats and musicians.
Her designs are influenced by the rustic charm of the Bazigar way of life—the old world with a touch of the contemporary. They are all handcrafted from natural materials using traditional techniques.
Bazi Jewels have an impressive collection of jewelry items with bold patterns and antique impressions.
Lark & Berry
Lark & Berry love diamonds. But the ethical issues associated with the mining of these beautiful stones and their eye-popping price—bothered them. So in 2018, both launched their venture that solved both these concerns—cultured or lab-grown diamonds.
They hit the jackpot. Lab-grown diamonds are just as sparkly as natural stones but at come at a fraction of the price. The brand immediately developed a cult following with its gorgeous stacked rings, ear studs, and cuffs.
This London-based independent jeweler has now graced the fingers and earlobes of the in-the-know fashion crowd worldwide.
Wald Berlin
Wald Berlin hopes to empower women with handmade jewelry made by a trade collective (cooperative) in Germany.
The company was founded by stylist and model Dana Roski and Joyce Binneboesse in 2012 in Germany. Wald Berlin was originally a brick-and-mortar in Berlin Mitte. After a short break, Waldo Berlin was re-launched and eventually became one of the online fine jewelry stores.
Wald Berlin is famous for its gold-plated seashells, with delicately-placed crystals. Its iconic creation is a seashell, which is a refined and elegant update of the puka-shell of bygone days. It also makes statement earrings and layered necklaces.
Mars Official
Do you want a pair of earrings that make a fashion statement, yet don't weigh a ton? Then you need a Mars Official.
Mars Official was founded by Holly Marbeck while studying fashion design in 2016. And while most independent jewelry brands are based in either the UK or the U.S., Mars Official is based in New Zealand.
Since the start, Holly developed her own unique signature that is organic, whimsical, and distinctive. She uses non-traditional materials and techniques and uses polymer, silicon, and resin in her creations.
The result is a line of playful earrings that matches a jumper-and-jeans kind of day. Mars also offers gold-speckled heart-shaped hoops, pearlescent swirled studs, and glittering drop-earring. And all are made of lightweight resin.
Retrouvai
This Canadian independent jeweler trounces conventional wisdom in its designs. Where everybody is focused on diamonds and gold, Retrouvai likes bold colors and fun shapes that offer luxury with a contemporary sense of humor.
For example, its gumball rings in 14k gold, polka-dotted with lapis lazuli gemstone are a sight to behold.
The company does not eschew gold and diamonds. Retrouvai still use them. But because of its flunky designs, they are a bit pricey.
Rebus
Rebus is made up of award-winning and highly skilled hand-engravers and goldsmiths.
Its mission is to supply beautiful engraving using traditional hand-engraving tools. For this reason, they are exemplary in the signet ring niche. Tucked in a comfortable nook in Hatton Garden. London, Rebus has been making signet rings for more than 45 years. Though a bit pricey, Regus signet rings are considered an investment.
As the list of branded jewelry, this array of the top independent jewelry brands is but a fraction of the whole. They may be written about sometime in the future. But they are enough to paint a very vast picture of the kinds of jewelry out there that are as good, and sometimes better, than the branded varieties. In face of this seemingly bottomless choice of jewelry, you may wonder what is the highest quality jewelry?
There is no quantitative measure of this question. However, they have characteristics that put a few into the "highest quality" category. These are:
Jewelry of the highest quality is a product of excellent workmanship. This is evident in the item's appearance, its symmetry. and absence of sharp edges that may present a health hazard. High-quality jewelry has center stones that are securely set and polished evenly. Above all, it is something you are proud to possess.
Now that you have an idea where to purchase that coveted jewelry piece, you'll need to learn how to buy one. Check out our guide "Buying Bling 101: How to Buy Jewelry Like a Boss."