Planning out an outfit of the day can be a chore in itself. Whether it's to dress the part of a girl boss in a meeting or simply feel confident in yourself, dressing to impress is never a bad thing. Part of the strategy is knowing how to wear jewelry for any occasion.
In a time when multitasking is king, it's good to be prepared to be whisked from the office to a great evening of fine dining. One way to get yourself that seamless transition is to know what to wear and how to wear it.
How To Wear Jewelry For (Almost) Any Occasion
There is always a proper way of wearing jewelry. Don't just wear the first thing you see on your jewelry box. Here, we provide you with some useful tips on how to nail the right piece to elevate your attire.
3 Classic Fine Jewelry Pieces For Every Look
Some women have a jewelry box full of trinkets and fine jewelry. Others have a harder time selecting because they do not usually wear accessories.
If you fall in the latter category, the best way to deal with this is to make sure that you have these three pieces. You can transform your wardrobe into more interesting ensembles with any of these three staple pieces.
Delicate Pendant Necklace
The beauty of pendant necklaces lies in its subtlety. The choice of pendant already adds to the statement a necklace means. Go for classy shapes and figures so you can easily transition from office to night out.
Colored gemstones are also a good choice. You can either match your OOTD or go for a good contrast. So if you want to know what color jewelry to wear with mauve dress, you can either go with amethyst or rose quartz for a matching set or go for a brilliant diamond to make it stand out.
If you are not a necklace-wearing type of girl, try to for a charm bracelet. Charms will never go out of fashion, especially for antiques. Best of all, you can glam up your errand outfit or spice up an office look with this piece.
Drop Earrings
If earrings are already a staple inclusion in your outfit, elevate them to drop earrings. This style adds drama, especially for those with either precious stones or intricate patterns. How do you wear jewelry with clothes on or even a turtleneck style blouse? Drop earrings are more noticeable and can be the only accessories you need for on-the-run errands.
Statement Ring
Diamond rings may be the staple fine-jewelry piece. But if there is one piece of costume jewelry that can make a statement on its own, it would be a flashy ring.
If you are a minimalist, use this to your advantage. While your outfit already follows a muted and monotone style, glam it up with a chunky ring on your index finger. It does not have to be big and loud for it to be a fashion statement.
If you're wondering how do I make my jewelry look classy even if it's costume jewelry, it's all about matching the style. There's nothing wrong with wearing costume or fashion jewelry, especially for everyday occasions. What's more, if you choose a style that is cohesive to your overall look, then it won't even matter if there are no precious stones or metals. It's about a holistic appeal.
Where Do You Wear It?
The right jewelry can take your outfit from so-so- get up to one that hits out of the park. And all it takes is the proper coordination to make the right statement.
It's all about knowing your style and using the right accessories to give it the right flourish. While there are no hard and fast rules on what to wear, there are tried and tested formulas to answer the very important question: how do you know what jewelry to wear?
Everyday Office Wear
Wearing jewelry in the workplace can be tricky. One can be as loud and proud of chunky accessories, especially for creative industries. While this can vary, a still common trend is for corporate workplaces to be more subdued in allowed outfits.
If there are essential rules for wearing jewelry in the office, it's best to go with classy style. Dainty stud earrings and a bracelet of the same gemstone work really well. Or if you want a layered necklace and a bangle, make sure they are relative of the same material to come up with a cohesive look. And if you decide on wearing a chunky bracelet, make that the one and only center of attention accessory, and nothing else.
Fine Dining, Fine Jewelry
Who said date night could not be a dress-up night, too? Even though regular comfortable dates are in, reserve a time when you can go out to a place a little fancier with your significant other. It may be to celebrate an anniversary or to mark a more special occasion.
Make this even more special with the right jewelry piece. Try to wear a memorable necklace or ring, especially those that hold a bigger significance in your relationship. This elevates the night to even greater heights.
Casual Couture
Just because you are out on errands does not mean you can't look as good as you want. While fine jewelry may be a bit out of place when you wear casual fashion, try to mix and match your costume jewelry.
A simple white-shirt-and-jeans outfit can go from "Oh" to "Wow!" with a striking layered necklace or a series of chunky rings. Let your polo blouse and shorts give a bigger impression with layered pearls. These simple costume and semi-fine jewelry can make a big difference.
Formal Fashion
More than the learning and the recognition that come with conference and awards nights, these are work events that allow you to meet and mingle with industry movers and shakers. As such, striking a chord and leaving an impression becomes the number one mission.
It's all about strategy. If most people will opt for the more neutral and default black outfit, try to find one that you can elevate with jewelry. Outfits in the shade of green make enough of an impression without leaving a bad afterimage. Go with a cool dark green dress or long gown to keep it light but classy. If you want to know what color jewelry goes with green dress, it's safe to play with either diamonds, black pearls or gemstones, or even emerald, so long as the shade does not deviate from your main outfit.
Job Interviews
Never underestimate the power of a power suit–especially when you have the right accessory on. Job interviews may be your first step towards your dream company, but you can also make this step work in your favor.
Whether you are a fresh graduate looking to land your first gig or a seasoned professional who's moving up the corporate ladder, dress your best. And make your handpicked jewelry show them the right blend of personality and professionalism for a great impression.
Weddings and Black Tie Events
If there was ever a time to whip out your most prized jewelry, it would be during these two events. If you are part of the wedding entourage, chances are your outfit will be coordinated. That does not mean you cannot go in and make waves with your own style. Wearing a signature piece of jewelry, like a statement ring or a rose gold pendant, can add a little oomph to your gown.
You can be more playful during black-tie events. This is probably the event where costume jewelry and some semi-fine jewelry can mix. If you are wearing a strapless gown with a muted color, try on a statement layered necklace to give your look more texture. If you are sporting a hair bun, it might be time to show off those dazzling diamond chandelier earrings.
Remember, in both scenarios, learn the beauty of tempered elegance. There's a fine line between making a statement and saying too much with sparkles.
Making Fine Jewelry an Everyday Fashion Statement
When one talks of diamonds and precious stones, it's easy to assume that these are all for special occasions. In reality, fine jewelry can be worn on any regular day. Jewelry is supposed to elevate your style according to your taste. Here are some of the reasons why you may want to start taking your favorite jewelry piece out of the closet for everyday wear.
It's a Beloved Personal Accessory
Many fine and semi-fine jewelry pieces are heirlooms or hand-me-downs, most of which have undergone meticulous jewelry engraving. They can be your grandma's locket or your mother's ring. Their price could be higher than regular accessories, but their value is worth even more.
For some people, these heirlooms can embody a security blanket of sorts. When you have an attachment to a piece of jewelry–such as one given by your partner or a memory from your mother–there's a way to make it a part of your everyday outfit. This makes them jewelry you can wear all the time.
Jewelry can be Timeless
Depending on the design, even antique jewelry can become a go-to accessory to finish your outfit. Some can be very intricate, with fine carvings and details. If the design on your favorite piece is quite bold, make sure to find a way to make it match.
One way to do this would be color matching. If your outfit for the day is yellow, find out what color jewelry goes with yellow. Most jewelry with warm-colored stones or have a gold setting can be a good match. The timeless nature of jewelry truly makes investing in jewelry truly worthwhile.
Coordination is Key
Fine jewelry exude class without even trying. Most fine jewelry don't need a lot of ornaments because the stones or metals speak for themselves. As such, they can coordinate with any outfit, especially the diamond. You can wear it almost like a uniform in your work outfit, and it can become a signature look that lets even a uniform outfit shine.
All About Pearls
Perhaps a favorite to complement power suit and Sunday dress, pearls may be the next most universal accessory after diamonds. If you want to know how to wear jewelry to compliment your look, try these three styles that go well with the trusty pearl jewelry.
Go Minimal
Just because a piece of jewelry adheres to traditional and simple design does not mean they cannot make a statement. Classic pieces, like pearl stud earrings, can go a long way to completing your look.
Best of all, pearls are the answer to the question, "How do you match earrings and necklaces?" Apart from diamonds, pearls can seamlessly be matched using different kinds of jewelry pieces without feeling like overkill. That's because the muted color of pearls makes it easier to mix and match without breaking the minimal rule.
Try Edgy and Layered
This is the year when timeless fashion pieces get an edgy makeover. Even the timeless pearl necklace has found its match with the long-stranded layered spin.
Younger jewelry wearers associate pearls with the older generation. Pearls carry an aura of maturity and delicacy with it. However, that does not mean you cannot make it into your own style. One way on how to wear jewelry for any occasion, especially for pearls, would be to go for styles that give classic pieces a modern twist.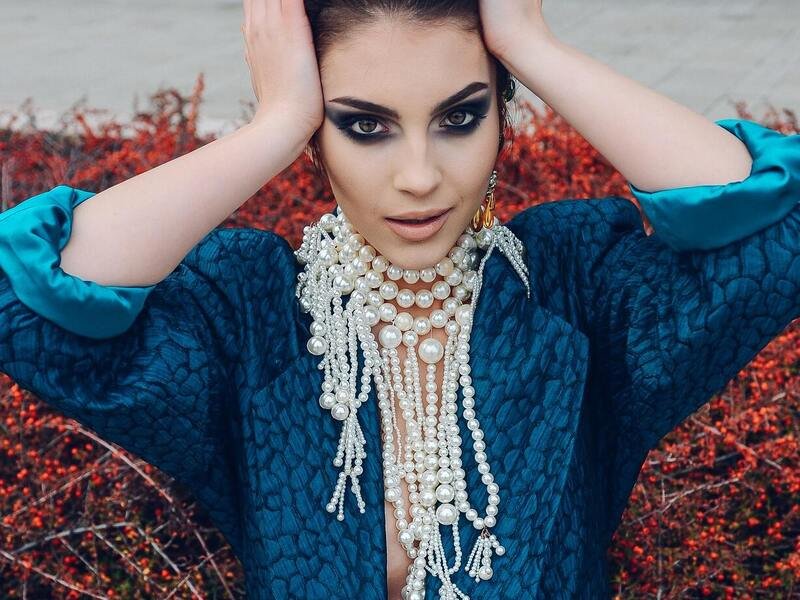 Layered pearl necklaces give a sense of drama to a dress or a simple pearl and jeans outfit. Go for necklaces with pearls that vary in size. Long-stranded necklaces are even more dramatic, especially when put in contrast against darker clothes.
Best of all, you can mix up the color. Pearls come in a variety of colors–gold, pink, gray, and black–so doing this makes them versatile with most clothing choices.
Refined, Small Accessories
Beyond the typical pearl necklaces, you can try to accentuate other parts of your outfit with pearls. Brooches may seem to be a thing of the past, but they can transform a regular black dress into a cocktail-ready evening deck.
If you're feeling that your Friday casual will go straight to a dinner for two, clip on a pearl-encrusted hairpiece, this turns your blouse and pencil skirt combo from simple to suave with one touch-up.
For an even more refined taste, elevate even your finer dress-ups. If you have ever thought that flapper dresses were cool back in their time, especially when flourished gloves, you can adapt that to a more modern look. Go with the gloves that have pearl button closures for a classy finish.