If you are into jewelry, you must have heard of Tiffany. You may even have one or two items from the company's amazing jewelry products. Tiffany & Co, or simply Tiffany, is a world-renowned jewelry store – especially for its much sought-after engagement ring setting. And when re a product creates a buying frenzy from customers, others will certainly join the fray. So, it is but normal that they, too, will come up with their own alternative to Tiffany settings.
But what are Tiffany settings, and why are they so special to get the attention of the jewelry-buying public?
What is unique about Tiffany Settings
For one, the Tiffany® setting is so unique that a patent covers it. It was created by the company's founder, Charles Lewis Tiffany, in 1886 to epitomize love and commitment into a ring.
He was right. After its release to the public, his creation – a ring with a knife-edged band, with six prongs, and a sparkling diamond center stone – became the trendsetter in engagement ring design that continues to this day. 
Another reason why Tiffany is special is its design – particularly the solitaire. 
The ring is designed to lift the diamond off the band – a first-in-ring design. It sports a round brilliant diamond held in place by six metal prongs equally placed around the diamond center stone. 
The prongs sit flush with the diamond to keep it from moving, extending subtly over the girdle to avoid the stone getting loose. The set-up provides the ideal combination of prong security and light exposure – the light enters the table and crown without any obstruction. And where the prongs meet are small openings that reveal the cutlet creating the impression that the stone is floating. 
When this revolutionary design was released to the public, it created so much furor that Tiffany & Co had to release a statement warning customers against counterfeits. It also set the trend for more lavish and attractive engagement ring styles (see chart).
Then as now, the Tiffany setting is an indelible mark in the engagement ring business. And beginning in May 2021, the company will again pioneer a new era of love by introducing the Charles Tiffany Setting engagement ring for men.
The future looks bright for the company. Notwithstanding stiff competition, it will continue to grow and serve the jewelry world with new and innovative designs, with their exemplary craftsmanship and adherence to the best practices in the jewelry business.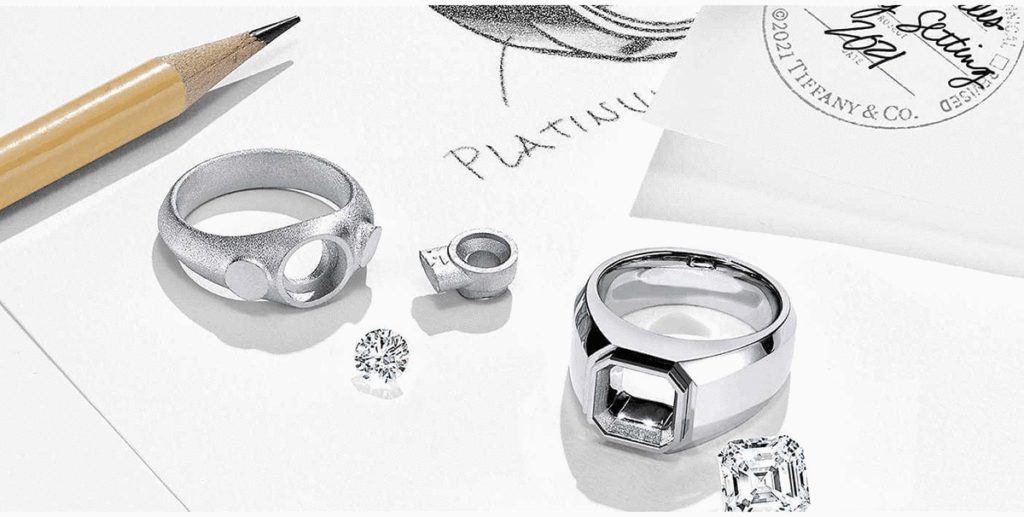 Work in process engagement rings for men
Does Tiffany sell just the setting
A solitaire engagement ring using the patented Tiffany setting is considered a masterpiece in the jewelry business. It is engineered flawlessly in an elegant and sturdy 6-prong set-up.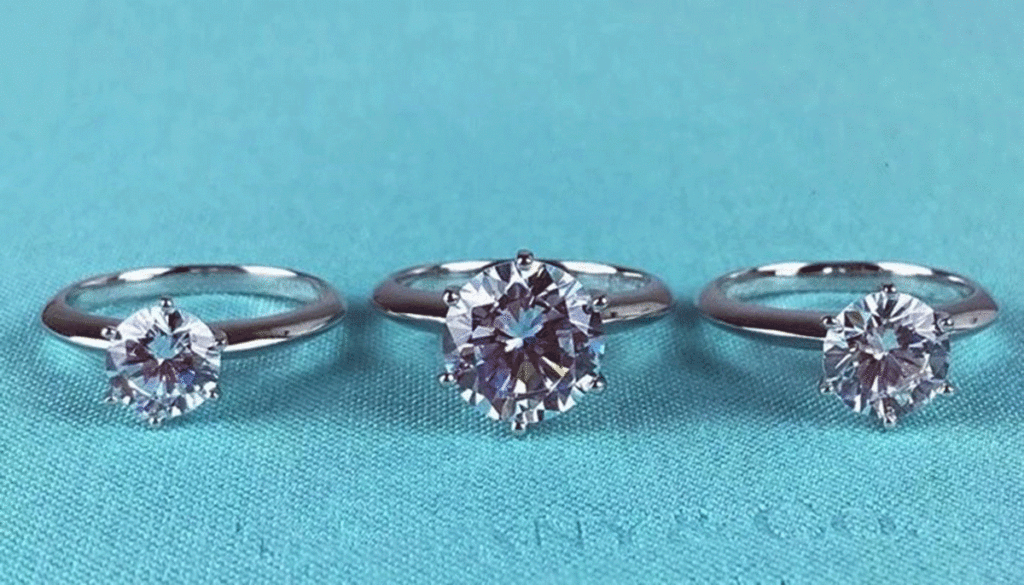 Tiffany setting
Not only does it keep the gemstone exactly in place, but also highlights the full beauty of the diamond center stone. It carries a trademark that dates back to 1886 and is considered the standard engagement ring setting up to the present. Unlike other settings, Tiffany's elegant and premium-quality Triple exquisitely-cut diamonds merit the highest grade of ring settings throughout the jewelry world.
Now, going back to whether the company sells just the settings, Tiffany does not recommend it.
Here's why…
Tiffany & Co sets the highest standards and requirements for their diamonds, and these standards must be met to be considered a True Tiffany diamond. And to uphold that standard throughout its entirety, Tiffany settings must only be paired with Tiffany diamonds.
It's not that Tiffany wants to monopolize the solitaire engagement ring business. The company is just trying to protect its name against countless counterfeiters that abound in the jewelry world.
Another reason why Tiffany does not sell its setting as a stand-alone item is to avoid a mismatch between setting and diamond cut. Tiffany cuts their diamonds precisely to the stringent requirements of their settings – an impossible feat to achieve with diamonds cut by other jewelers
Of course, you can commission a jeweler to make you an engagement ring that looks exactly the same as a Tiffany. But you could never, deep in your heart, claim it to be a Tiffany.
Can I put my own diamond in a Tiffany setting?
This question is the same as the previous looking at the opposite end. It's kind of looking at the same object from a different perspective.
The answer is the same – Tiffany & Co does not consider it an option. The company will not set any diamond or stone not purchased from them. It's kind of wanting to place a Honda engine into a Toyota chassis.
Tiffany has a standard to uphold, and its reputation is built around fine craftsmanship and high-quality products. Their diamonds undergo a rigorous selection process – from specific mines to polishing, cutting, grading, and setting. They could not put their reputation on the line by setting a diamond whose origin is questionable and quality is below par of the standard the company has painstakingly built through the years.
What brand is comparable to Tiffany?
In the jewelry world, Tiffany is one of the leading players. But it doesn't mean she's the prima donna. More than a dozen companies offer Tiffany alternatives as good or, in some respects, better than those they try to emulate. Here are a few of them:
Blue Nile
Blue Nile is an American company based in Washington, D.C. It was founded in 1999 to introduce innovations into the diamond engagement ring business.
So if you are looking for a place to buy high-quality jewelry at reasonable price, Blue Nile is it.
It is one of the best places to buy high-quality jewelry at a reasonable price.
Aside from diamond engagement rings, the company has a wide array of jewelry pieces – from wedding rings, necklaces,  friendship rings, and more. They are all made from the finest materials that can last a lifetime.
And they are tops in customer service who will be glad to answer any questions or concerns regarding their products—which are covered by their 30-day return policy.
James Allen
Although relatively new in the business (it started in 2006), James Allen prides itself on providing excellent quality engagement rings at a much lower price compared to traditional jewelry stores.
Of course, other than engagement rings, the company also offers a wide variety of jewelry, such as wedding bands, bracelets, necklaces, and earrings.
What sets James Allen from the rest is their passionate commitment to quality. All their jewelry items are made with the highest quality materials and craftsmanship. And every diamond James Allen sells is qualified by GIA, AGS, and the IGI.
De Beers
When it comes to diamonds, De Beers needs no introduction. After all, their ad "A diamond is forever" ushered in the age of diamond engagement rings.
Like Tiffany and the rest of the pack, De Beers is one of the best jewelry brands in the world. Their jewelry products are closely associated with the high social status that comes with luxury items.
De Beers carries a wide range of jewelry products that are perfect for daily wear, and their diamonds are hand-picked and cut to perfection.
Harry Winston
Harry Winston is a US-based company with its feet planted all around the world. While its main office is in New York, it has outlets in London, Paris, Geneva, Tokyo, Shanghai, and Hong Kong, to name a few.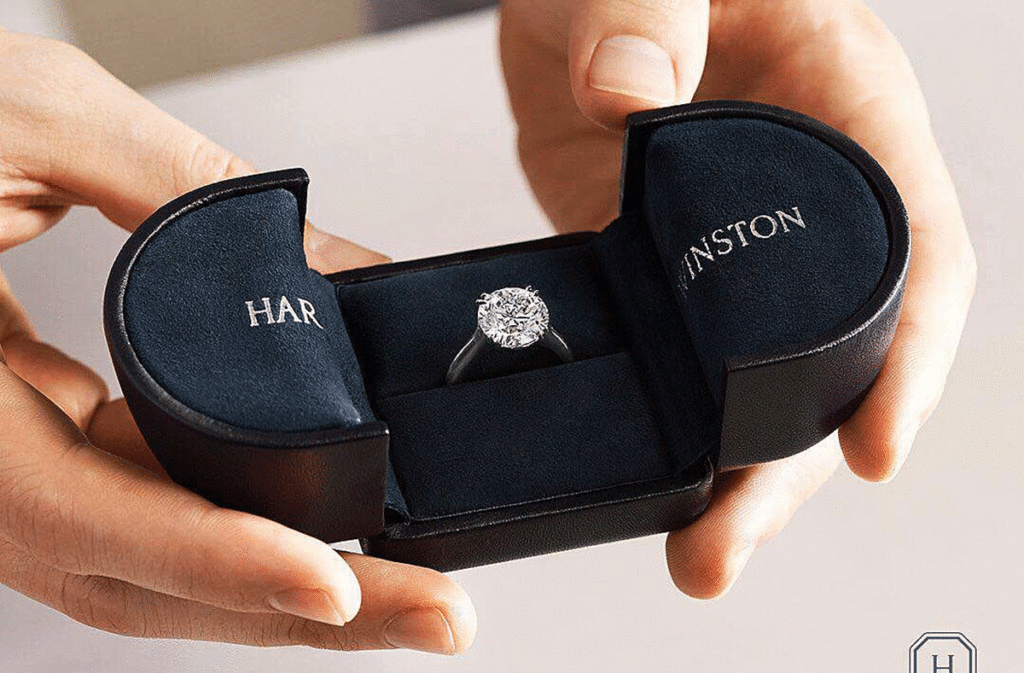 Needless to say, it is considered one of the best jewelry brands in the world to the effect that Harry Winston is dubbed as the King of Diamonds.
It is an old company, having been founded by Harry Winston, himself. Since day one, it has always been known for its high-quality diamonds and exquisite designs.
Harry Winston diamonds have been used to adorn some of the most famous jewelry items in such as the engagement ring Prince Charles gave to Princess Diana. And recently, those worn by Jennifer Lopez and Beyoncé.
Though Harry Winston is very expensive but those who own one or two jewelry items believe the company's piece are all worth it.
Yes, it is worth the price. So if you want to make a statement with your engagement ring or any other jewelry item, go for a Harry Winston.
Cartier
Cartier is a lot older than Tiffany. Founded in 1847 by Louise-Francois Cartier, it is now the most important and recognizable jewelry brand worldwide. Its core products are extravagant gems with the highest quality given shape and form by the most skillful craftsmen.
The company is known for elegant and timeless designs, epitomized by their love bracelets. Other than that, Cartier also make jewelry items preferred by famous celebrities like Angelina Jolie.
While Cartier and Tiffany may stand-to-toe regarding the elegance of their products, the former only uses the highest quality materials. Hence, it is also more pricey than the latter.
Van Cleef & Arpels
Van Cleef & Arpels is another luxury jewelry brand that has not gained the reputation of being a household name like Tiffany & Co, or Cartier. But it is no pushover.
The company was founded in 1896 in Paris by Alfred Van Cleef, a Dutch diamond cutter, and his father-in-law, Salomon Arpels. From its humble beginnings the company rose to become a producer of luxury jewelry, watches and fragrances.
As far as exquisite craftsmanship is concerned, it stands toe-to-toe with the big names in the business like Tiffany, Cartier, Harry Winston, etc. In fact, some of the most famous women in the past like Elizabeth Taylor, Grace Kelly, Evita Peron, and more, wore Van Cleef jewelry. 
David Yurman
David Yurman is a relatively new-comer in the business having been founded in 1980 by David, an architect, and his wife, Sybil, a painter. From their passion they created a brand known for being a model of inspiration, innovation and excellent craftsmanship. Today, it is one of the most well-known brands in the world.
In its engagement ring collection, David Yurman always uses untreated diamonds to add more flair to make them more classy and environment-friendly. To deviate from tradition, it created an Intense yellow diamond engagement ring that are mesmerizing. However, the company also uses sapphire, emerald, and ruby to cater to a wider variety of customers.
The wide collection jewelry items of David Yurman includes innovative cable bracelets made of twisted strands of gold or silver. They also have a line of luxury watches, rings, necklaces, earrings, pendants and more.
The company is a bit expensive, too. But if you have the money, it is a veritable one-stop jewelry shop.
Chopard
Chopard was founded in 1860 by Louis-Ulysse Chopard in Sonviller, Switzerland. Through the years, however, ownership changed hands so that in 1963, it found itself in the hands of the Sheufele family of Germany. But its core business is still the manufacture and retail of luxury watches, jewelry, and accessories.
The company also offers a wide array of jewelry items such as engagement rings, necklaces, and earrings.
Aside from its luxury jewelry items, it is also know for its commitment to social and environmental responsibility. In fact, it supports charities like the Dalai Lama Foundation and Save the Children.
Their diamonds are all ethically-sourced and their products are made in compliance with international labor standards.
Is Chopard a worthy alternative to Tiffany settings? Yes! The company is known for exceptional luxury jewelry items, as well as wristwatches. In fact, the brand is comparable to Cartier, or Harry Winston.
Since 1886 when Charles Lewis Tiffany introduced his iconic solitaire engagement ring, things have become so competitive in that jewelry niche. And things will ramp up in the years to come.
Engagement rings accounted for roughly $ 28 million in sales in 2019. And this is expected to increase to $ 38 million in 2027. As long as life goes on,  engagement rings will always be a part of the continuum of life. And jewelers like Tiffany & Co, Cartier, Harry Winston and many more, will continue to produce products to support that need in the years to come.