Do you know the top jewelry brands in the UK?
If you Google the phrase, "top jewelry brands," you will be surprised to find that of the nine best-of-the-best jewelry brands in the world, only one is based in London. The pack is dominated by American companies. A few are French, while some are Italian and Swiss.
You might find this odd because the English have been making jewelry long before they set foot on the New World in 1607.
This oddity is caused by two factors:
The US mastered the art of mass-marketing ahead of anybody. For example, the first commercial to appear on TV was for the Bulova watch. Then in 1947, de Beers promoted their diamonds through their "A diamond is forever" ad.
It has a larger consumer base. As of 2020, the population in the UK was about 67 million while that of the US was more than 332 million. For this reason, mass sports in the US, like the NBA (National Basketball Association), are raking in millions and millions of revenues each year.
But that does not mean that the UK is a veritable Sleepy Hollow when it comes to jewelry. In fact, UK jewelry brands can stand toe-to-toe against those on the other side of the Atlantic.  Here are some of them:
Top Jewelry Brands in the UK
Before going forward, you must remember that though the Americans and Brits share the same culture, there are a few differences. One of them is spelling. Americans use the term "jewelry," while the English use "jewellery." Both mean the same thing but are spelled differently.
In 2021, total jewelry revenue in the US was $57.965 billion and is expected to grow in the years ahead. In contrast, that of the UK in 2019, was 564 million British pounds ($ 732 million). Even if extrapolated on a per year basis, the revenues differences between the two are so significant to make a logical comparison.
There are no accurate figures but, no doubt, a huge chunk of this revenue must have come from some of the best jewellery brands in the UK shown below:
1. Astrid & Miyu
Astrid & Miyu, established in 2012, is a London-based contemporary jewelry brand founded by Connie Nam, a South Korean. After traveling extensively, she hit on the idea of creating unique and affordable jewelry items.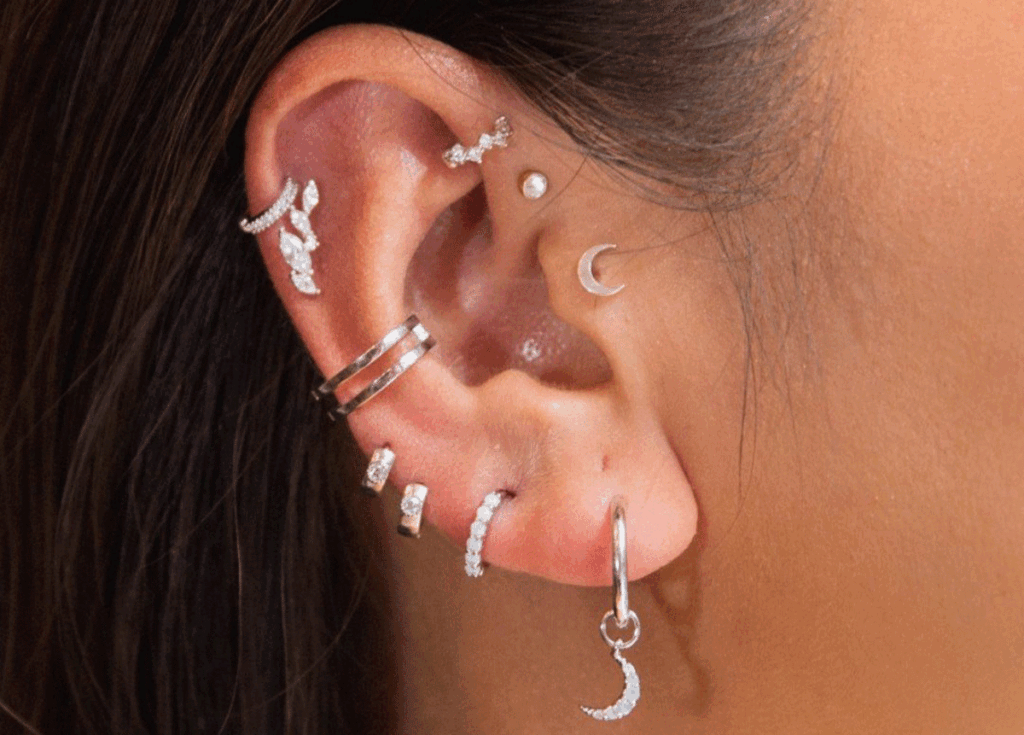 The core products of Astrid and Miyu are plated rings, bracelets, earrings (like the one in this Claires review), and necklaces. The company uses brass or sterling silver plated either with 18ct rose gold, 14 ct gold, or rhodium.
All their creations are designed in their London studio by a group of talented designers using high technology such as 3D printing
With prices starting at 55 English pounds, it is one of the best affordable jewelry brands in the UK Nevertheless, their jewelry adds a textured twist at a party. 
2. Celeste Starre
Celeste Starre jewels bear symbols of love, luck, health, and good fortune.
Designed in London, the company was founded by Andraya Kenton and Celeste is the name of her grandmother who inspired her to establish her jewelry business.
Celeste Starr's core products are cuffs. rings, earrings, and necklaces of various designs. It is a brand that you can look to for hope, happiness, and, of course, fabulous jewelry at affordable prices. It inspires women to be bold and confident
3. COS
COS is a jeweler with sustainability as its core value as it knows the vast difference between lab-grown and natural diamonds. It designs unique jewelry with geometric shapes for both men and women. But what makes it unique is that it uses recycled, repurposed, or sustainable materials.
It is certified by the Global Recycle Standard and Recycled Claim Standard.
4. Daisy Jewellery
Daisy Jewellery or Daisy London is one of the top jewelry brands in the UK. Behind the brand's success is Estée Lalonde, a British creative director known for creating videos, and hosting/producing podcasts. She's also known for her love of all things of beauty.
Each piece Estée Lalonde makes for Daisy is crafted in 925 recycled sterling silver and 18k gold plating. Though the company is based in London, its factory is in Thailand.
Its mission is to design and make jewelry to elevate your everyday life; to put a jewelry item that is missing in your collection.
5. Monica Vinader
If you want to know what brand of jewelry is most popular in the UK, Monica Vinader is the closest answer you can get.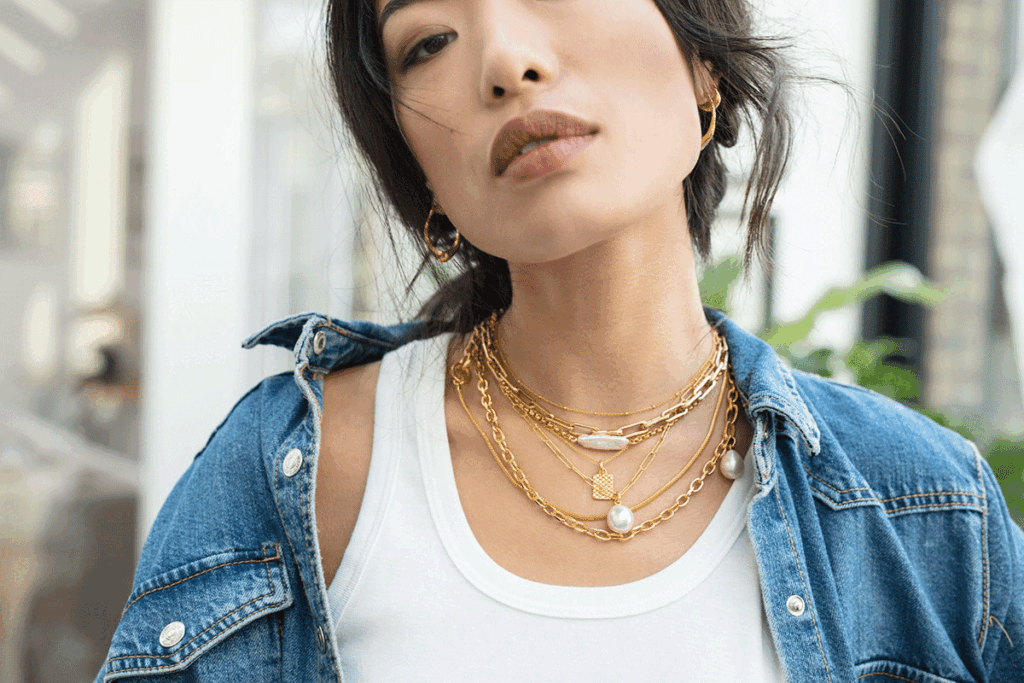 Why? Because its necklaces, pendants, earrings, and rings are priced between fine and fashion jewelry. In other words, Monica Vilander caters to a wider spectrum of a customer's budget.
Monica is an artist, adventurer, and designer, Spanish by birth. After finishing her studies at the Fine Arts of London, she landed a job as a jewelry designer. That got her hooked and founded Monica Vinader with her sister, Gabriela.
Currently, Monica has stores across the globe—from Dubai to the US and raked in 43.2 million pounds in the past year.
Monica's success, as expected, spawned copycats. And this raises the question, "who are Monica Vinader competitors?" Here are a few:
Idyl
SVNR
Mejuri
Vrai
Studs
6. Missoma
Missoma prides itself on having the ability to make semi-fine jewelry at affordable prices.
The company, founded by Marisa Horden, started out as a hobby while she was doing a full-time corporate job. As time went by, her passion for it grew. Thus, it became a business.
While the company is London-based, its manufacturing is in India. It's not a sweatshop, though. It is strictly supervised to make sure that it complies with all government regulations.
Missoma is best known for its layered necklaces, and delicate earrings—all done in 18k gold-plated brass with a two-micron layer of 18k gold.
7. Net-a-Porter
Net-a-Porter was established in June 2000 with the goal of delivering incredible fashion and fine jewelry for women. Though it has its own core products, it also manufactures for the world's most coveted brands like Gucci, Chloe, Balenciaga, Saint Laurent, etc.
Since its launching in June 2000, it has gained the reputation of being the world's premier luxury fashion destination.
8. Tada and Toy
Tada and Toy is the creation of two childhood friends, Tansy Aspinall and Victoria Van Holthe. Even at a young age, they already shared a dream of starting a jewelry brand.
Why the queer name? Well, Tada is Tansy's childhood nickname and Toy, that of Victoria.
Their designs are a playful blend of the timeless Scandinavian style of very high-quality pieces at affordable prices.
Tada and Toy are also into sustainability by using only recycled gold and silver in their products.
9. Lark & Berry
Lark & Berry was launched in 2018 by Laura Chavez. It specializes in fine jewelry made with lab-grown diamonds and stones. Since its launch, the company has never used mined diamonds. And it sets these stones in carefully-crafted gold and platinum.
Its designs are a wonderful mix of beauty, traditionally crafted in the cutting-edge technology of growing diamonds. The result is a timeless creation, yet cool and nature-friendly as well.
10. Orelia London
In 2008, bosom pals Collette Flood and Louise Hirst went on a trip to New Delhi, India. While there they had an epiphany—to create a brand that was both aspirational and affordable. It gave birth to Orelia London.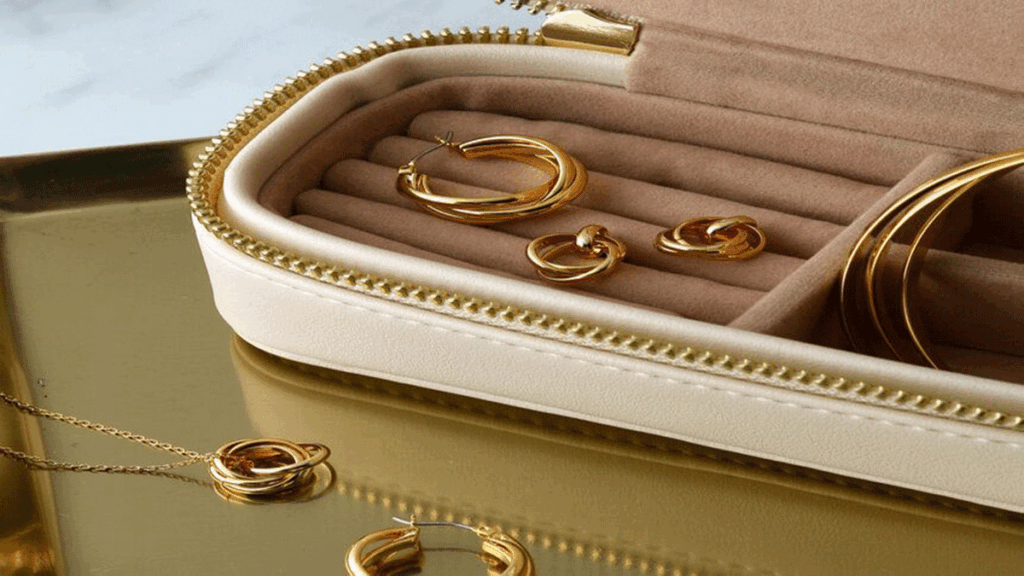 Orelia straddles the gap between fancy jewelry and designer brands. And they get their design inspiration from their various travels, from nature, vintage jewelry items, and current trends. Its jewelry line uses beautiful plating, semi-precious stones, and interesting metal textures.
11. BAR Jewellery
BAR Jewellery is another London-based company founded by a former fashion designer, Sophie Mckay. At the outset, Sophie believed that sustainability and beauty can co-exist. Hence, all her rings, earrings, necklaces, etc., are all made from recycled metals.
Her designs are inspired by artists Gustav Klimt and Sakiyama Takayuki and revolve around the concept of never-ending curves and flowing forms.
12. Joma Jewellery
Joma Jewellery was founded in 2008 by Kati and Geoff Loxton who, while traveling, fell in love with semi-precious stones, and silver beads. This led to the creation of this jewellery brand that shows luxury, quality, and affordability in one package.
Its collection of bracelets (not unlike the one in this
Harper Kendall London review
, earrings, necklaces, and rings feature simple, yet elegant styling. Each piece of Joma jewelry has a message behind it, making them ideal gifts for friends and loved ones. 
13. Carrie Elizabeth
Carrie Elizabeth Dennahy was a fashion and jewelry buyer for one of London's top jewelry retailers. After traveling extensively, she observed that the jewelry brands she loved were well out of her reach.
So taking a great leap of faith she decided to make her own brand that people, like her, can afford and love to wear as well.
Carrie's target is the mid-market to bridge the gap between the fashion and fine jewelry worlds. All her creations are in 14k gold vermeil, sterling silver, and solid gold. They are all handmade in her factory in Jaipur, India where there is an abundance of semi-precious stones.
14. ByGlaze
Natalie Glaze founded ByGlaze to create a brand that is timeless and reflective of the company's values and ethos.
Jewelry items made by ByGlaze are minimalist and never go out of style. And it adheres to sustainability practices, too. It uses recycled sterling silver and 18k gold plating.
ByGlaze jewelry items are beautiful, and empower women and enhance their natural beauty.
15. Olivia & Pearl
Olivia & Pearl was founded by Olivia Smith out of the desire to re-invent the pearl into something contemporary and stunning. Her designs are innovative and passionate; with an excellent blend of classic and modern styles to celebrate individual personalities.
Olivia and Pearl use cultured salt and freshwater pearls that are carefully selected to pass AAA+ grade certification—and handcrafted to the same exacting standards as other luxury brands, but without their excessive markups.
16. Lily & Roo
Lily & Roo is the home of pearl wedding jewelry, stylish and personalized necklaces, and pavé set bracelets and earrings.
Founded by Brittany Preston in 2018, it makes classic, yet contemporary and modern jewelry that is second to none.
Today, Lily & Roo designs are recognized for their simplicity and minimalist style. In fact, her work has been featured in fashion publications like ELLE, Harper's Bazaar, etc.
The designer's creations are often handcrafted in its Hatton Garden, London, shops.
17. Taylor & Hart
Taylor & Hart is an award-winning jeweler specializing in custom-designed engagement rings. It redefined the rules of engagement— by embracing what makes jewelry magical; something that captures your story.
The company was previously called Rare Pink. But in 2016, founders David Sutton, Nikolay Piriankov, and Shane Hunt, changed it to what it is today. Taylor & Hart is known for its high-quality jewelry, focusing on engagement and wedding rings. It also makes custom-made rings with the "heart" in typical British fashion.
18. Links of London
Links of London was founded in 1990. by John Ayton and Annouska Ducas. Though it is owned by Folli Follie, a Greek company, it has a very strong presence in the UK, as well as around the world.
The company rocketed to fame due to its sterling silver "sweetie" bracelets. It also created the ultimate charm bracelet with hundreds of charms to choose from. The  Brits are very interested in its affordable sterling silver pieces of jewelry rather than the cheap costume jewelry items.
19. Alex Monroe
Alex Monroe founded Monroe and his jewelry is synonymous with the British character of being quirky, delicate, and feminine. His designs are inspired by animals and plants, as well as travel; his jewelry style is recognizable by his mix of stylization and fine materials.
20. Boodles
Specializing in bespoke jewelry, Boodles fine jewelry use diamonds as well as pearls and other precious stones. Knowing who founded it requires going back 200 years ago when it was but a family-owned business operating on the docks of Liverpool, England.
Back then, Boodles made, on commission, jewelry items for the members of the royal family, including a solid silver cake stand for the wedding cake of Elizabeth II.
Now, its craftsmen are continually exploring the technical boundaries, hidden details, asymmetric design, elegant settings, and immense precision of jewelry fit for royalty.
Jewelry Brands That's All Their Own
These are the top 20 jewelry brands in the UK. The list is by no means complete. But it is safe to say that they keep the jewelry world in England vibrant and alive. But do they answer the question, "which is the No. 1 jewellery brand in the world?" The answer is "No." That honor belongs to American jeweler Harry Winston.
Nor can they answer, "which jewellery brand is best for investment?" If you are looking for jewelry for investment purposes, look for a Cartier. Cartier jewelry has never sold at auction at any price lesser than its original price. 
And here is an interesting study in contrast. Well-entrenched brands like Tiffany,  Cartier, Van Cleef, etc. dominate the US market. But on the other side of the Atlantic, independent jewelers are calling the shots.
Now, if you're interested in knowing about the top US brands, check out our post, "13 Independent Jewelry Brands In The US: Jewelers For Empowered Women."